Are Medical Loans Hard to Get?
Facing a medical emergency can be daunting, especially if you do not have the money upfront to handle it. Even if you have health insurance, there is no guarantee that your insurance company will help you cover all of the medical expenses that you will encounter when the unexpected happens. Bankrate recently reported that 1 in 4 Americans have trouble paying their medical bills. Therefore, they may seek out medical loans to help them cover the related expenses. Whether you need to have an emergency root canal or a major surgery, you may be searching for the best loan for medical expenses.
A personal loan is often marketed as a medical loan since it can be used for a variety of financial needs, including medical expenses that are generally quite expensive to pay for out of pocket, even if you currently have insurance coverage. Those types of expenses can include dental implants, unexpected surgeries, and more. Personal loans are an option to explore, but accessing financial relief through personal loans can be tough if you do not have a high credit score. Although personal loans can be a difficult option to explore if you have bad credit, there are other alternatives to consider.
Title loans can cater to Americans with poor credit scores because they are secured by collateral. In order for an eligible borrower to obtain emergency medical funding with a title loan, they must pledge the title to a qualifying vehicle as collateral for the loan, which makes it a secured loan. Generally, secured loans are much more flexible than unsecured loans because a valuable item is used to guarantee the loan.
Keep reading to learn more about how medical loans work and what your other options are going forward if you need a loan for medical expenses!
How Do Medical Loans Work?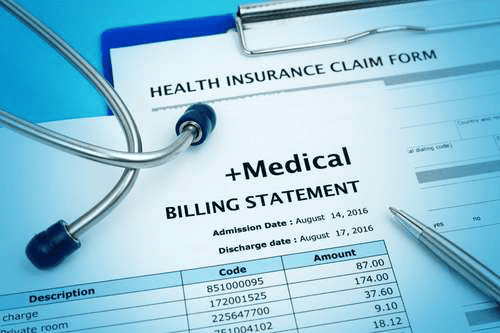 The exact process of applying for and receiving funding for a medical loan depends on the type of financing option you choose to handle your medical issues. While there can be many to choose from, some of the most common medical loan options include the following:
CareCredit Card: A CareCredit card is a type of financing option that can only be used for specific types of purchases and at locations that accept CareCredit. This medical credit card cannot be used for everyday purchases like gas or groceries. CareCredit cards are used by individuals to pay for out of pocket medical expenses that are usually not covered by insurance. Many will use CareCredit financing to handle unexpected medical expenses, surgery for a pet, or even cosmetic procedures. To obtain a CareCredit card, you can apply over the phone, through their website, or at some CareCredit provider locations. After approval, you will receive a credit card and be able to spend as much as your available credit line permits. Keep in mind that it is important to review your terms before you sign an agreement. Whether you are using a regular credit card or a CareCredit card to pay for medical expenses, it is in your best interest to make sure that you pay off the balance right away to avoid accruing interest charges.
Personal Loans: As mentioned above, personal loans can be marketed as medical loans. Generally, personal loans are unsecured and can be an ideal option if you are an individual with prime credit looking for emergency financial assistance. If you are a subprime borrower without a strong credit history, however, it will be challenging for you to obtain loan approval and secure optimal loan terms. That means even if you are able to obtain a personal loan with bad credit, you will likely experience high interest rates! You can apply for a personal loan through banks, credit unions, or online lenders. Upon approval for a personal loan, you'll be able to use your loan proceeds to pay for your urgent medical expenses. Then, you can typically pay off the loan in equal installments over a set period of time. The terms of your loan, including your monthly payment, interest rate, and the amount of time you have to pay it back, will be outlined in your loan contract. With a personal loan, your loan amount is primarily based on your credit and financial history.
Title Loans: Whether you need a loan for dental implants or major surgery, a type of secured loan called a title loan can be a viable solution if you have a car title in your name. With a title loan, you are borrowing against the value of your vehicle, and you can typically access up to 50% of your vehicle's current equity if you are eligible for funding. Your loan amount will be largely based on your vehicle's value and your income. To obtain a title loan, simply fill out a short prequalification form online or over the phone with a title loan agent. Upon initial approval, you will be asked to submit a few documents. If you are approved for a title loan, you can choose how to receive your money and sign your loan contract! While it is possible to get a title loan without a bank account, you can choose to receive your loan proceeds via direct deposit and get your funds in as little as 24 hours if you do have an active checking or savings account. After your loan is funded, you can use your loan proceeds to pay for medical expenses. If you are approved for a ChoiceCash title loan, you can access competitive interest rates and no hidden fees! Additionally, you do not need to have good credit to get a title loan to pay for a medical treatment.1
Whichever avenue you choose to take, know that you can typically use your medical loan proceeds to handle a variety of procedures and treatments, including the following:
Before you sign a loan contract, it is imperative that you fully read through your agreement and understand your loan terms and conditions. In order to truly compare medical loans, you should review the pros and cons of a loan, as well as the terms offered by each loan option. Don't just apply for the first loan option that comes your way!
Instead, take a closer look at these details when applying for a medical loan:
Annual Percentage Rate (APR): APR simply refers to the cost associated with borrowing money, and it is expressed as an annual rate that is charged on a loan balance. Typically, the APR of a loan or credit card includes interest and any applicable fees that must be paid when an individual obtains the loan or credit card. Those with higher credit scores and lower debt-to-income ratios are more likely to receive lower interest rates when they apply for a loan or credit card.
Terms: One of the most important parts of your loan experience is the amount of time you have to repay the loan. Make sure that you understand the terms of the loan you are signing, which include how long you have to repay the money you intend to borrow.
Amount You Can Borrow: Additionally, you may want to choose a loan option that can match your expectations for the amount of money you can borrow.For example, if you want to borrow money through an unsecured personal loan, know that the amount of money a lender will offer is typically based on your credit score and financial history. With a title loan, your loan amount is primarily determined by the value of your vehicle and your income. If you are eligible for a car title loan, you can access up to 50% of your vehicle's total value. If you do not have a high credit score, you may not be able to borrow as much money as you need through a personal loan, but you may fare better when applying for a secured loan like a title loan.1
Any Fees Involved With the Process: When you are researching different medical loan options, it is important to consider any fees that the lender will charge, including origination fees, prepayment penalties, or late fees. With ChoiceCash title loans, there are no prepayment penalties to worry about!
Ultimately, the type of financing option you choose will reflect your current financial situation, as well as your medical needs and preferences as an individual. If you have any questions about applying for a title loan for medical expenses, feel free to visit the FAQ page or call 855-422-7402 to speak to a ChoiceCash title loan agent.
What Do I Need to Get a Loan for Medical Bills?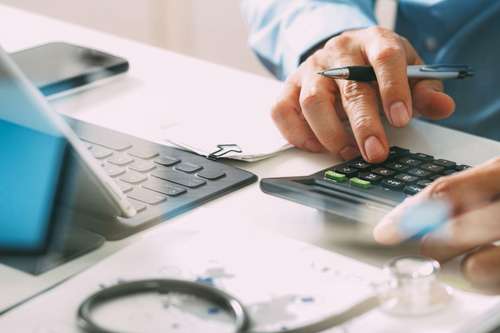 The paperwork you will need and the requirements you must meet to get approved for a medical loan depend on the type of loan you are applying for and the lender or provider you choose to work with. If you already have a credit card, you will not need to provide additional documentation to access your available credit line and use your card for medical financing. However, if you are applying for a CareCredit card, you will need to provide certain personal information, such as your Social Security Number / Individual Taxpayer Identification Number, your income, current address, and other relevant information.
If you decide to apply for medical loans instead of credit cards to handle your medical expenses, you will typically need to have these documents during your application:
Proof of Income: Generally, the types of documents you can use to prove your ability to repay a loan usually include recent pay stubs or bank statements. If you do not receive regular pay stubs because you do not have a traditional job, know that when you are applying for a title loan, proof of alternative income like retirement or disability income can be accepted.
Proof of Address: A lender will usually ask you to submit proof of your current address. Acceptable documents usually include recent utility bills, credit card statements, or other pieces of official mail, like mortgage statements.
Valid, Government-Issued Identification Card: A valid driver's license, U.S. passport, permanent resident card, or state-issued identification card can be used to prove your identity during a loan application.
When specifically applying for a title loan to get financial assistance, you must have these additional documents on hand to get approved for funding:1
Car Title in Your Name: Since you are borrowing against the value of your car, you must have a valid vehicle title in your name when applying for a title loan. Keep in mind that it is possible to get a title loan on a financed car, and you can even apply for a title loan with an out of state title!1
Recent Photographs of Your Car: When applying for online title loans with no phone calls, you can access certain perks! This includes skipping a physical vehicle inspection and accessing an online vehicle examination instead. In order to complete an online vehicle inspection, you must provide specific photos of your car's interior and exterior. Typically, you'll be expected to provide pictures of your car's front, back, and rear. Additionally, a clear photograph of your vehicle's odometer reading and VIN (Vehicle Identification Number) will be required.
Additional Documentation May Be Required: Depending on your current state of residence, you may be required to provide additional documents during your title loan application.
If you decide to apply for a ChoiceCash title loan serviced by LoanMart, all of your documents can be conveniently submitted online or sent to a title loan agent via email / text message! Applying for medical financing can be convenient and simple when you apply for a ChoiceCash title loan.1
Can I Get Bad Credit Medical Loans Near Me?
There are many reasons why you may have a poor credit score. Whether you are missing payments every month or you have high credit utilization, you may not have a high credit score and will not be able to qualify for a few different loan options. But it is possible to get bad credit medical loans near you! Car title loans are secured loans, so individuals with bad credit can still apply and access financial assistance as long as they are able to meet the necessary requirements and provide the correct documentation to verify their information.1
If you are like most Americans, you prefer to handle your errands online when you can. So why not apply for medical loans online? With ChoiceCash title loans serviced by LoanMart, you can apply for a car title loan for medical expenses online or over the phone. There is no store visit required to apply for the medical financing you need! Call 855-422-7402 to learn more about applying for bad credit medical loans today.1
Where Can I Get the Best Loan for Medical Expenses?
The best medical loans are those that can be applied for conveniently online and completely cover the costs associated with your medical emergency. If you're ready to apply for a title loan for medical expenses, just fill out a short pre-approval form online, or call 855-422-7402 to apply over the phone with a ChoiceCash title loan agent!1