How Do Pink Slip Loans Work?
Pink slip loans, otherwise known as title loans or auto title loans, are a type of secured loan. A borrower uses the title of their car as collateral to secure the loan. The "pink slip" refers to the certificate of title for a vehicle, which is used to establish the ownership of a vehicle.
Title lenders will place a lien on the title to your car after the loan is complete, and they have the right to repossess the vehicle if you default on the loan and do not pay it back.
It's called a pink slip loan because, in some states, car titles were printed on pink slips of paper. Pink pieces of paper were used to prevent drivers from losing this important document. Even though this practice has declined over the years, the name has stuck. Today, many people refer to pink slip loans as title loans, car title loans, or auto title loans. Generally, people who need emergency cash but do not have an ideal credit rating can apply for pink slip loans. Since they are secured by collateral, title loans can have a more flexible application process!1
Find out if you qualify for ChoiceCash title loans by filling out the online pre-approval form or calling 855-422-7402.1
Can I Get Pink Slip Loans with Bad Credit?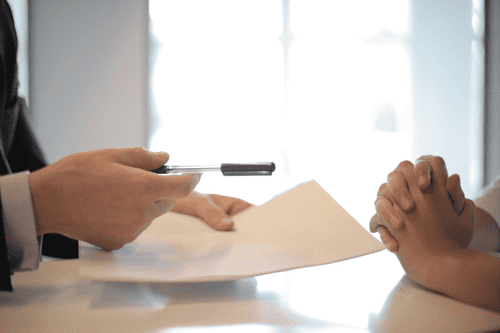 Generally, a good credit score is not required to qualify for a pink slip loan, although a credit check is typically an important part of the application process. However, other factors may be more consequential during the approval process, such as your income and ability to repay the loan.1
A FICO credit score below 580 is considered to be a "bad" credit score. When your credit score is low, you may have difficulty obtaining approval for unsecured loans, renting an apartment, or even getting a job. But, because you can pledge your car title as collateral for the loan, the title loan application process is a lot more flexible and convenient. People with bad or no credit can potentially qualify for a pink slip loan.1
Contact a ChoiceCash title loan agent at 855-422-7402 if you have questions about credit scores, pink slip loans, and more!1
Do I Need a Job to Get a Pink Slip Loan?
No, you do not need a traditional job to apply for a pink slip loan. However, in order to qualify for a pink slip loan, you must provide sufficient evidence that you will be able to repay the loan.1
You can provide proof of an alternative source of income during the inquiry process if you don't receive a regular pay stub from an employer. Take a look at some of the acceptable forms of alternative income that you can provide during the application process for a title loan:1
Alimony / Child Support
Settlement Income
Pension Income
Retirement Income
In addition to providing proof of income, you will need to submit the following documents:
A Car Title in Your Name
Proof of Residence
A Few Recent Photos of the Car
A Valid, Government or State-Issued Photo ID
Contact a ChoiceCash title loan agent at 855-422-7402 to learn more about the application process.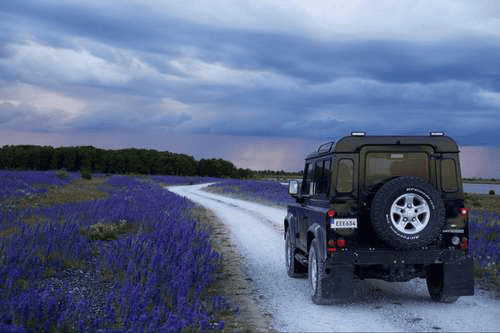 How Much Can I Get from an Instant Pink Slip Loan?
Generally, eligible borrowers may be able to get anywhere from 25-50% of their car's total value. But, the amount that a qualified borrower can obtain through a pink slip loan will vary depending on their income and the total value of their car.1
You can use ChoiceCash's online title loan calculator tool to learn more about the current value of your vehicle and get a loan quote with no obligation.1 The tool is incredibly simple to use, and qualified borrowers can choose direct deposit or have their funds added to a debit card to get their money in as little as one business day!1
Do you need to access emergency money? Applying for pink slip loans doesn't have to be a hassle, and there's no store visit required to apply for a ChoiceCash title loan serviced by LoanMart. In fact, the application process can be quick and convenient! You don't necessarily need a good credit score to qualify, and eligible borrowers may receive loan approval in as little as one business day.1
Start your application for a pink slip loan today by filling out the prequalification form online. Or, just call 855-422-7402 to get in touch with a ChoiceCash title loan agent.1
What are the Benefits of Pink Slip Loans?
With ChoiceCash title loans serviced by LoanMart, you can expect the following benefits:
Flexible and Convenient Online Application Process: You can conveniently apply for a title loan online with ChoiceCash title loans! The application process was designed to be quick and simple. You can easily upload the required paperwork online during your application. Or, just text / email the documents to a representative. It's simple, and you don't need a perfect financial history to qualify!1
Keep Driving Your Car: You can continue to drive your car throughout the duration of the loan as long as you pay your loan on time. So, you can potentially maintain access to your car throughout the entire repayment process.
No Prepayment Penalties: There are no prepayment penalties or hidden fees with ChoiceCash title loans!
How Can I Apply for a Pink Slip Loan?
Looking for quick funding to get back on your feet? Apply for a ChoiceCash title loan serviced by LoanMart in just three easy steps:1
Apply Online by Filling Out a Short Inquiry Form or Calling 855-422-7402
Submit a Few Documents
Find Out if You Qualify for a Pink Slip Loan!1