In order to qualify for a title loan, your car must have a certain amount of equity. For most borrowers, this can be confusing. Who knows the equity in their vehicle off the top of their head?
This is where resources like a Title Loan Calculator through ChoiceCash Loans can be efficient. One determining factor for loan eligibility is the value of your car. The reason for this is the fact that your car's title will be the collateral for the loan, which secures it. In most cases, higher funding can be awarded to applicants with higher valued collateral.1
Title loan amounts are typically anywhere from 25% to 75% of your vehicle, depending on its market value and your ability to repay the loan.1 If your vehicle is worth $10,000, you will potentially be able to get up to $5,000-$7,500 for your loan.
Some additional factors that determine the vehicle's value are:
Make and Model of the Vehicle
The Current Mileage on the Odometer
Any Surface or Cosmetic Damages to the Car
How Can I Use the Title Loan Calculator the Get a Loan Estimate?
The ChoiceCash calculator can be a helpful financial resource during your loan search. Not only can you receive information about your vehicle's equity, you can also choose to utilize it and get a title loan!
This resource can be accessed through any smartphone or computer with internet. Using either one, you can get an estimate for your vehicle at your convenience.
To do so, you'll just need to submit a few details about your car:
State of Residence
Vehicle Style
Current Car Mileage on the Odometer
Vehicle Make and Model (Including the Year)
After submitting all the details, you can receive your estimate ASAP! Submit your form and get your qualified estimate straightaway. Instead of wasting time in a dealership or through a third-party application, you can get your estimate and loan straight from the source with ChoiceCash.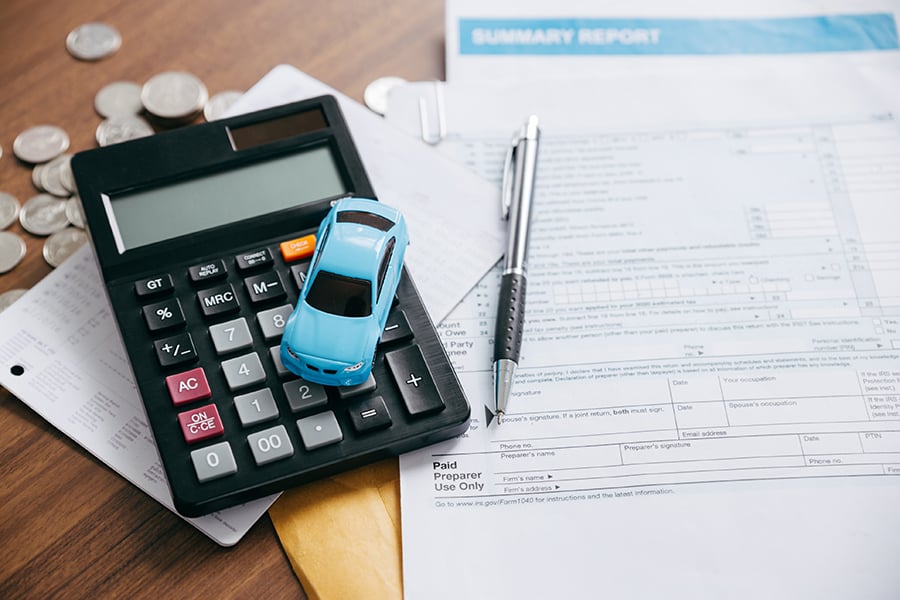 What are the Benefits of a Title Loan Calculator?
Unlike dealership estimates or other third-party sources, an estimate through the Title Loan Calculator with ChoiceCash can give borrowers access to both an estimate and a loan in one sitting. If you are a borrower looking for convenience and fast funding, then this resource is perfect for your financial needs.
In addition to convenience, other benefits of the estimate calculator include:
Fast Funding: If you need a title loan for emergency funding or bills, choosing ChoiceCash can be the most efficient resource for your finances. Borrowers that choose ChoiceCash Title Loans serviced by LoanMart for a fast loan can often receive their approved funding in one business day!1 Even the inquiry process can be fast for borrowers, who simply need to fill out an initial form and get in touch with a representative to walk them through it.
Competitive Interest Rates: In addition to convenience, eligible borrowers choosing this resource can have access to competitive interest rates through ChoiceCash Title Loans. This is one of the most important aspects of a loan, as it will control how much a borrower will end up paying in the long run. The access to competitive rates is a huge benefit for all borrowers needing fast funding through a title loan!
Unmatched Customer Service: With access to 24/7 qualified and helpful loan representatives, you'll have unmatched customer service throughout the duration of the loan. Customer service is one of the most important tools when it comes to your loan, as it can make or break your experience with a lender.
Keep Access to Your Vehicle: While you will be utilizing the title of your vehicle to obtain the title loan, responsible borrowers can keep access to their vehicle and drive It as they normally would!
Easy Inquiry Process: Getting started on your loan shouldn't be a hassle. With the Title Loan Calculator, simply input your information and documents to find out your eligibility! Borrowers just need a few minutes to finish this process for their convenience.1
Why Choose ChoiceCash Title Loans for Funding?
For most borrowers, convenience is everything. If you can get all of your shopping done online, why not get your title loan estimate and funding online as well? With ChoiceCash Title Loans, the process is entirely streamlined for your benefit. Qualified borrowers can often receive their funds in one business day or less!1
Why choose waiting in line at a bank if you can get your loan online? With the Title Loan Calculator available, you'll have access to the convenience and speed that come with choosing ChoiceCash Title Loans serviced by LoanMart.1
If this is the right tool for you, getting started is easy and hassle free! Place your loan inquiry online or over the phone today and get the right estimate you need for your title loan. Borrowers that choose to call may do so toll free at 1-855-914-2945 to get in contact directly with a loan representative.