Find Bad Credit Loan Options in Louisiana Today
In the past few years, the economy has shifted in the United States. If you have faced financial trouble, you are not alone. Many Americans are struggling with credit card debt, defaulted loans, and even evictions. If you have struggled financially, chances are, your credit has also taken a huge hit. In that case, if you need cash to get back on your feet, you may not qualify for many traditional loan options.
Your credit score is used by a lender to determine whether or not you are a risk to lend to. Most unsecured loans rely entirely on your credit score during the approval process to determine your eligibility for cash. Unlike unsecured loans, title loans are secured, so there is collateral used during the approval process.
Since collateral is used, the risk to lend to someone without strong credit is minimized. Lowering the risk can allow title loan lenders to approve more people from a wider variety of financial backgrounds. If you are looking to find bad credit loan options in Louisiana, you may have more options than you think. While title loans are an option, it is important to consider all of your opportunities before applying for a quick, hassle-free loan like a title loan from ChoiceCash!1
What are Some Bad Credit Loan Options in Louisiana?
Credit history makes up a large portion of our lives. Your credit history will influence your home, the kind of car you drive, your car insurance rates, and even your ability to apply for cash. The lower your credit score, the fewer financial opportunities you may have.
But, just because there are fewer financial opportunities does not mean there are none. Take a look at some of the most prominent bad credit loan options for residents of Louisiana:
Credit Card Cash Advances: If you already have a credit card provider, a cash advance from a credit card can allow you to turn your available credit line into cash. While this is a fast way to get cash and you can usually access it at your credit card provider's ATM, there is a catch. The interest rate that is applied to any usual purchase from your credit card will apply to this cash advance as well. That can be tough to repay, so it is advisable to not consider a cash advance from a credit card if you do not have the means to repay it in a month or less.
Payday Loans: These loans are meant to last a person in between paydays, just as the name would suggest. Typically, payday loans can be anywhere from $50-$500 depending on your income. While payday loans are usually unsecured, they target subprime borrowers that may not qualify for any other type of funding. Payday loans can get you fast cash in spite of your credit history, but there are some drawbacks and disadvantages to consider. Usually, there is a fee for borrowing money from a payday loan lender. This could be $10 for every $100 you borrow! Additionally, payday loans are notorious for high-interest rates and fees that are tough to repay. These interest rates could roll over and leave you in a cycle of debt.
Title Loans: These loans are secured loans, meaning that there is an asset used to secure the cash. In this case, it will be the title of your vehicle. Title loans can allow borrowers to access their vehicle's available positive equity and turn it into cash! With a title loan from ChoiceCash, not only can qualified borrowers access competitive interest rates, but there are other perks to take advantage of.1 Since title loans are secured loans, the approval process is flexible- even if your credit is not up to par.1
While there may be many loan options that can cater to borrowers who aren't comfortable with their credit histories, not all options are created equal. Choose a loan that will help your finances in the long run, not just now!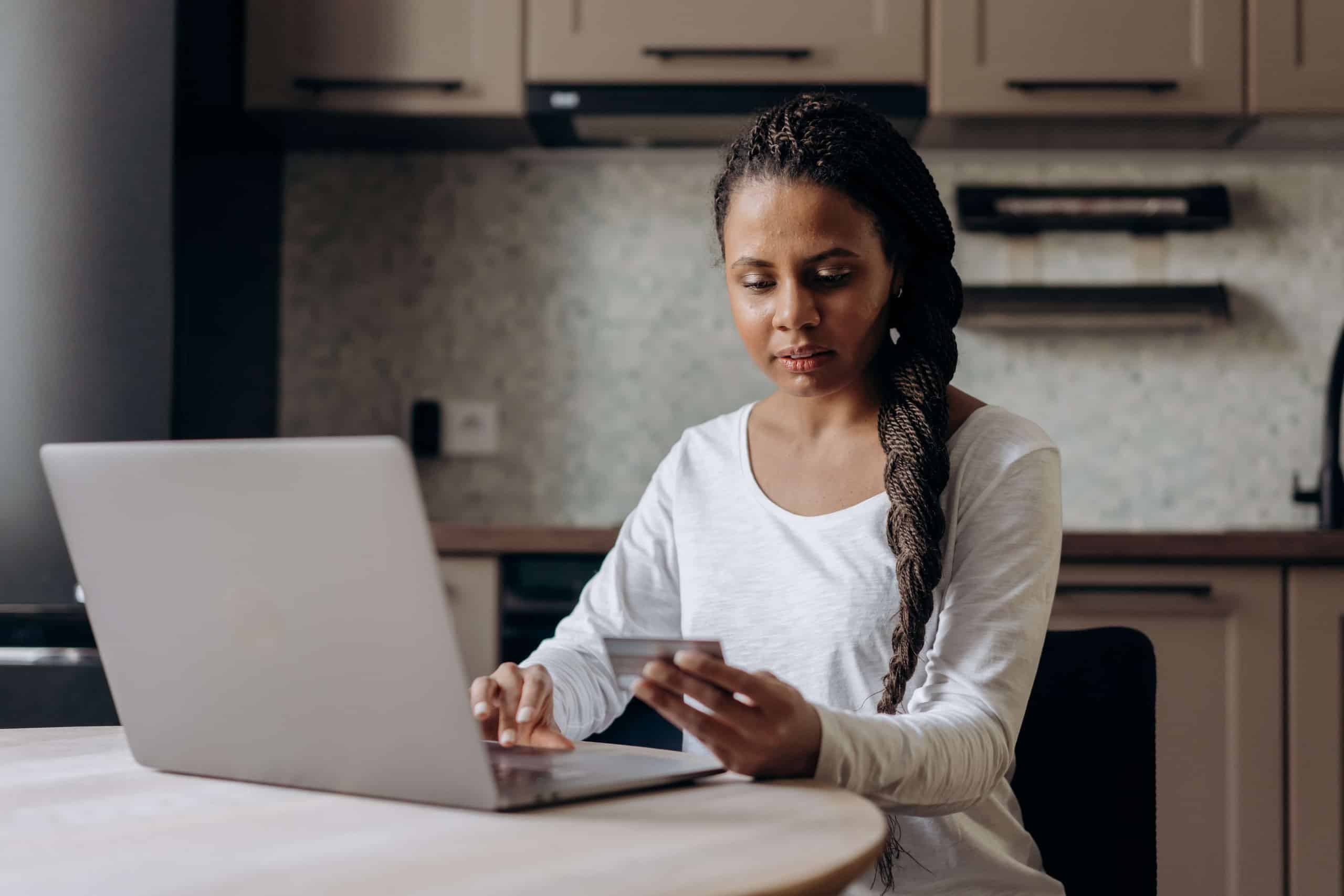 What is Considered Bad Credit?
A credit score is evaluated by a three-digit number between 300 and 850. The higher your credit score, the better your credit is. Typically, a credit score between 300-579 is considered poor or bad credit. Take a look at the range for credit scores:
300-579: Poor
580-669: Fair
670-739: Good
740-799: Great
800-850: Excellent
If you have a "bad" credit score or a score that is less than fair, it will cause you to hit some roadblocks financially. These roadblocks include:
Fewer Financial Opportunites: It will be difficult for you to qualify for many lending options with a bad credit score. That is why it is so important to take care of your credit or to find bad credit loan options in Louisiana that are right for you until you get back on your feet and repair your credit.
Difficulty Applying for Housing: If you are a renter, you may already know that your credit history will affect your chances of applying for housing. Some landlords will look at your credit history to see if you are a good fit to be a tenant.
Trouble Applying for Employment: While not all employers will take a look at your credit, some do to see if you are chaotic with your finances. If your credit has taken a hit, you may miss out on job opportunities.
If you do have a poor credit score, it doesn't have to be forever. There are ways to repair your credit! Make sure you are making all of your payments on time and lowering your utilization. A budget can also be implemented into your spending habits to help you reduce your new debt. If you do need a bad credit loan option to get back on your feet, it is important to choose the right one, so you do not end up in a worse situation than before.
What is a Title Loan and Why is it a Bad Credit Loan Option in Louisiana?
Title loans can be called a few different names, such as an auto equity loan or a pink slip loan. With a car title loan, you have the opportunity to access your vehicle's available equity and turn it into the funds you need. Your vehicle's title is the collateral for the cash, which is why it must be in your name at the time of inquiry. Alternatively, you may be able to use a close to paid-off vehicle to apply for a title loan.1 Typically, title loans are meant to be multiple or single installment loans, depending on the lender and loan terms.
Since title loans are secured with your car's title for the cash, the approval process can be much more flexible and hassle-free.1 Since a car title loan is a secured loan option, your credit history is not the focus of the approval process. While your credit is still considered, borrowers from all different backgrounds can potentially qualify for this financial option.1 Instead of your credit becoming the focus, these factors will matter the most:
Your Ability to Repay the Loan
Your Income
The Value of Your Vehicle
With a title to a qualifying vehicle and the right income to support a loan, it can be easier than you think to find out if you qualify for a car title loan in Louisiana!1 Inquire for a title loan with ChoiceCash today by heading to the website. Or, give a loan agent a call at 855-422-7402. Even though you are using your car's title as collateral, you can still keep driving your car while you repay your loan! Just make sure to make your payments on time each month.
Do I Need a 9-5 Job to Apply for Bad Credit Loan Options in Louisiana?
One of the initial requirements for a car title loan is that a borrower must have the income to support a loan payment each month. Many people assume this means a 9-5 job, but that is not the truth! There are many different ways to earn a living outside of traditional employment. In this day and age, many people have left corporate America or never joined it in the first place.
If you are looking to apply for a car title loan with ChoiceCash, you can prove your income in a few different ways. You can use alternative income sources during the inquiry process! This includes:
Worker's Compensation
Settlement Income
Retirement and Pension Income
SSI or Disability Income
Annuity Payments or Alimony
Not sure if your income will meet the criteria for a title loan? Give a title loan agent a call today at 855-422-7402 to learn more about your eligibility for a car title loan in Louisiana!1
Will My Vehicle Qualify for a Title Loan?
In order to qualify for a bad credit loan option in Louisiana like a title loan, you need to have the right car. A qualifying car is the most important aspect of the title loan approval process! But, what types of cars will qualify for a car title loan? There is no all-inclusive list of vehicles that will make the cut. A qualifying car for a title loan is a vehicle with the right amount of positive equity to borrow from.
There are many different makes and models that can meet those criteria! From a Toyota Camry to a Chevy Malibu and everything in between, you can find out if your car qualifies for a car title loan in no time.1 While you may not know the amount of equity your car currently has, there are plenty of ways to find out. One of the most convenient ways is to use an online tool that does the hard work for you. ChoiceCash has an online calculator tool available for title loan borrowers to find an equity estimate. That takes the hassle away from you! Find out if your car and income can qualify for the cash you need in no time.1
What is the Approval Process Like for Bad Credit Loans in Louisiana?
If you are like most residents of Louisiana, you appreciate the convenience of running your errands online. If you can order your groceries from your smartphone or computer, why not apply for a loan on them as well? With a title loan from ChoiceCash, you can get started on your loan inquiry from the comfort of your home!
The approval process can be done in just a few simple steps:
Call a Title Loan Agent or Go Online: Use your smartphone or computer to inquire about a car title loan online today! Just head over to the website and fill out the short inquiry form. Or, call a title loan agent with ChoiceCash at 855-422-7402. Both options can take no time at all!1 Just answer some basic questions about your income and vehicle to find out if you are prequalified.1
Submit a Few Documents to Verify Your Info: If you are prequalified for cash, a title loan agent with ChoiceCash will reach out and ask for a bit of paperwork. These documents can help verify your information and vehicle ownership! While the documents may change from state to state, as a Louisiana resident, you can expect to need:
A Title to a Qualifying Vehicle in Your Name
Proof of a Louisiana Address
Proof of Income or Alternative Income
A Valid, Government-Issued Photo ID
Recent Photos of the Car
One of the great things about the inquiry process for a ChoiceCash title loan serviced by LoanMart is that you can submit these documents online for your convenience! Email or fax these documents to a loan agent to get to the last step of the approval process.
Find Out if You Qualify for Cash1: After your documents have been submitted and processed, the last step is to find out if you qualify for a bad credit loan option in Louisiana. Choose from a few different ways to collect your cash- whether it be a direct deposit to your bank account or a check in the mail.
Don't Wait to Find Out if You Qualify for a Poor Credit Loan Option in Louisiana
If your credit has taken a hit, don't let that hold you back from applying for a bad credit loan option in Louisiana. Even if you are not happy with where your current circumstances have led you, it shouldn't stop you from applying for the cash you need! Inquire about a ChoiceCash title loan serviced by LoanMart today online, or over the phone at 855-277- 4847. Qualified borrowers can get their cash in as little as 24 hours!1