What Do You Need to Get Your Car Paid Off?
If you're undergoing a tough financial situation, you might be looking for a resource to help you with your debt. There's one major problem with that, however. If you are dealing with a tough financial situation, chances are, your credit has taken a nosedive. Most traditional loans will only qualify borrowers with a decent credit score or financial background. That can be inconvenient for many people who, unfortunately, do not meet those standards. But with a title loan, you can expect a different experience, since you could use your car's title to secure your loan!¹ The approval process could be easy and might only take a few minutes to get through.¹ But what if you apply for a title loan on a car you're still financing? Does a car need to be paid off to qualify?
Thankfully, when you inquire about a title loan with ChoiceCash, the loan amount you'd receive depends on the equity in your car, not just the payments left on it.1 That means you could still acquire the funds you need even if you haven't completely paid off your vehicle.¹ However, it's important to consider how that would influence the total amount you'd have to repay. When you get a title loan while still paying off your car, the remaining amount you owe on your auto loan will apply to the title loan's principal balance.
In that case, you may be wondering- "What do I need to get my car paid off?"
People usually use their savings to purchase a vehicle outright, which means they could own it immediately. But it's only advisable if they have enough money to cover themselves for future expenses. In some cases, a person might decide to make a hire purchase (known more commonly as an installment plan), which lets them put down a 10% or more deposit and complete their loan in fixed monthly payments until the car is completely paid off. Once you make the final payment, you would finally own the vehicle. Read below for different tips on how to complete your vehicle purchase.
Regardless, if you have a vehicle with equity, you could use the title to apply for funding through a title loan. Go online or contact a title loan representative with ChoiceCash at 855-422-7402 to find out if you can get your funds in as little as 24 hours!¹
Car Needs to Be Paid Off? Here's What You Can Do to Get the Job Done Faster
When you need to have your car paid off, you may want to pay it quickly to obtain a title loan. While you are able to apply for a car title loan with a car that is not fully paid off, sometimes it is nice to have a game plan. Fortunately, there are multiple ways for you to pay your car debt sooner rather than later!
Here are some examples of what you could do to make quick payments when your car needs to be paid off:
A Second Job May Complete Payments Faster: Sometimes, a person's financial "irresponsibility" isn't the issue that is causing them to miss their payment obligations. It might simply be because they don't have enough income to pay for their expenses. Although you might have a job right now, it may not be enough to cover your current expenses. In most instances, the simplest solution is getting a second job to earn extra money. You might not receive plenty of cash instantly, but those funds could be used to pay off your car. Depending on the occupation, you may get a large sum of money that could shorten the time that is invested in paying off your vehicle.
Sell Items: Do you have some things that you wouldn't mind giving away? If you sell them, you might earn money for your car purchase! You could get a lot more if those items have a lot of value in the market. Things like vintage toys, designer clothes, gaming consoles, furniture, and jewelry can go a long way in earning you an abundance of money! Whatever you decide to sell, you can use different platforms to get people's attention, like Facebook Marketplace or Offerup. Once you make consistent sales, you might have enough funds to cover your monthly payments.
Pay More Than What You Owe That Month: With an auto title loan, you likely have specific installments each month for a certain sum. However, you are able to pay more than what you owe! Just make sure that you can afford it.
Create a Budget Plan: One of the easiest strategies to manage your expenses is to create a budget plan. There are many different types of budgets out there! You could choose from a variety of plans to keep up with your payments and save money for your car. No matter which method you select, it could help limit your spending each month, increasing your budget. Keep in mind to prioritize that money toward your payments and not on other unimportant expenses. If you are consistent with the plan, you might finish paying off your vehicle in no time!
While these techniques can assist you in paying off a car fast, you could benefit from doing more than one. You can acquire a lot of money if you mix strategies since you'd be earning revenue from different sources! However, be aware that these are just a handful of ideas you could use to pay off your auto loan. Borrowers who are approved for a title loan with ChoiceCash will pay off their loan in installments each month. Perhaps you could apply those same payoff methods to your title loan if you are approved! Contact a title loan representative today to learn about any additional payment strategies.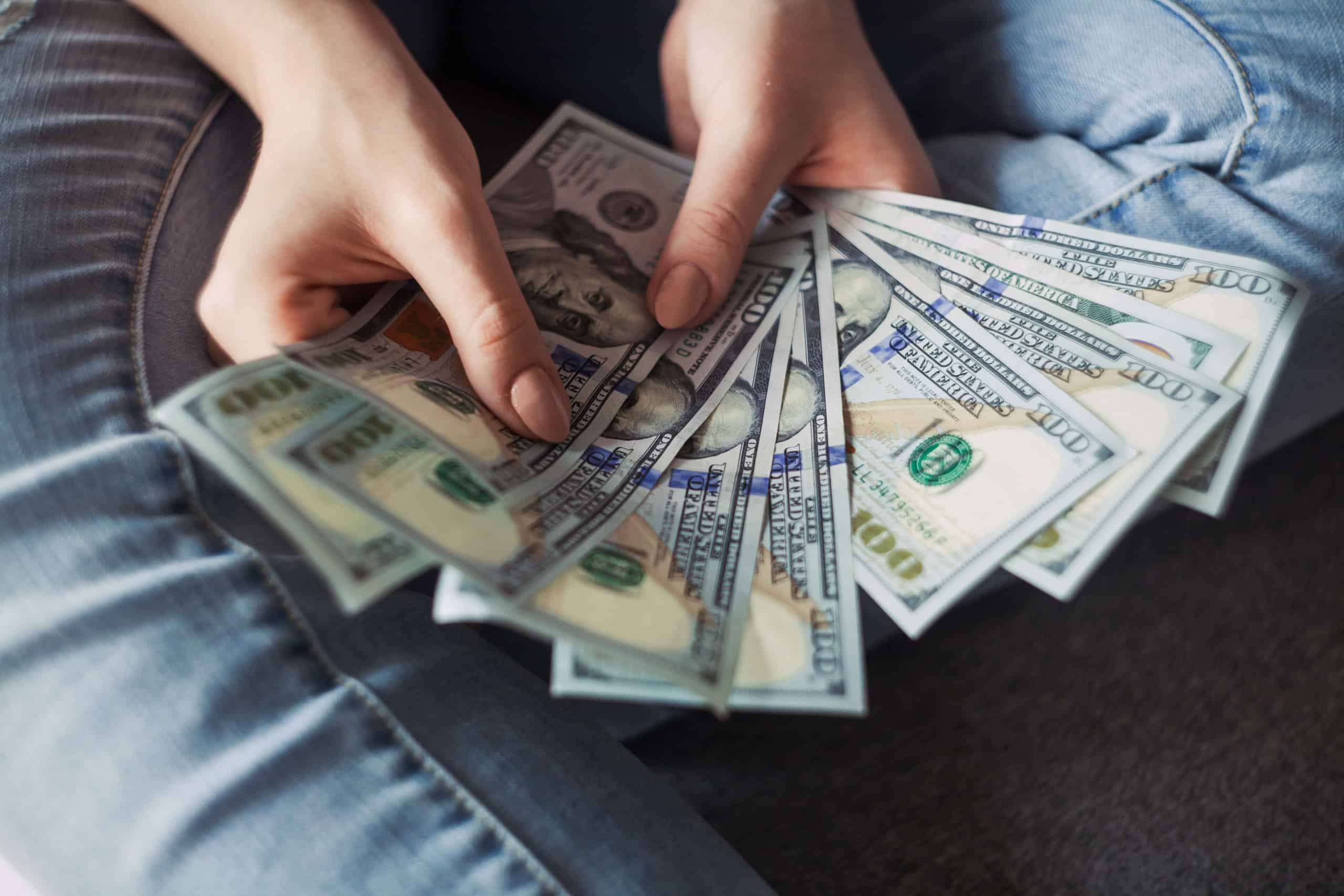 How to Budget When Your Car Needs to Be Paid Off
The previous section mentioned how budgeting your spending could help you save money when a vehicle needs to be paid off. An essential part of that is implementing a budget into your everyday lifestyle. That means you could do things like you usually would while simultaneously boosting your budget. Though there are multiple ways to earn cash for your car payments, there might be one great technique that could be beneficial. People that follow the 50/30/20plan could continue with their daily routines while being conscientious about their money. The rule states that you should divide your money into three kinds of spending: 50% on needs, 30% on wants, and 20% on personal savings.
The term "needs" refers to bills or expenses that you must pay no matter what, and they are usually things that everyone needs to live. For example, rent/mortgage payments, insurance, groceries, utilities, and any loan payments are necessities that people have to cover each month. In this case, paying off your car would fall into "needs." So it's important to use a part of your budget each month to cover the installment for your vehicle.
After working hard all week to get your paycheck, it's understandable to want to use it for things you've been anticipating! Things like food or game consoles are items that people typically cannot wait to spend their money on, and that's fine! It's also understandable if you go out with friends for drinks and dinner, or purchase tickets to see your favorite artist; people should spend their money on whatever they want! Yet, those items aren't important compared to the expenses that are a necessity. While your wants can be entertaining, they could take the funds away from your needs. Before you know it, you could end up in a cycle of debt that is difficult to escape.
Lastly, 20% of your budget must go to savings and investments. Generally, savings are set aside for emergencies that cannot be prepared for, like unexpected expenses. People tend to allocate savings for different reasons that include:
College Education
Retirement
Investment Funds
Down Payments for a Home or Vehicle
Rainy Day Fund
Unexpected Medical Bills or Surgery Costs
Using this budget plan could structure your expenditures and help you focus on paying off your car! If you ever need assistance during your monthly payments, you could find a wide range of financial services that can help you get back on your feet. One of these financial resources is a title loan!
Use a Paid Off or Close to Paid Off Car to Apply for a Title Loan
Once you finish dealing with your car that needs to be paid off, you could obtain a title loan if you have an expense to cover. Even if you haven't completed your car payments, you could still qualify for funding.¹ Remember, title loan lenders base your eligibility on the positive equity in your car, not the number of payments you have left on it. To initially qualify for title loans, you would need to meet the following basic requirements¹:
Have a Title to a Qualifying Vehicle, or a Car That is Close to Paid Off
The Income/Alternative Income to Repay a Title Loan
Borrowers Must Be 18 Years or Older
By using the title to a qualifying car as collateral, borrowers could potentially secure their funding in a flash.¹ There's no need to have perfect credit histories or come from a specific financial background to qualify. However, collateral goes both ways, as it assures title loan lenders that borrowers will pay off the loan in full. When you begin the repayment process, a lender will place a lien on your title until you have repaid the loan. Once you've completed your installments, the lender will remove the lien from the title. If you fail to pay a title loan, you risk losing your vehicle from repossession. Contact a title loan representative with ChoiceCash for details on what you could do to avoid that consequence.
Equity is simply the monetary value of your vehicle, which is calculated by taking the difference between its market value and the amount you owe on it. A car with enough positive equity is essential because it helps title loan lenders decide on the loan amount you'd receive, as well as your eligibility.1 The more positive equity your car has to borrow from, the more you can potentially qualify for through a title loan if you have the right income to support it.¹ Speaking of affordability, lenders look closely at your ability to pay off a title loan; if they determine that you cannot repay it, they could deny you. But that decision is done to protect you from further financial damage. Also, borrowers don't need a traditional 9-5 job to qualify for title loans. ¹ You may still be eligible if you present an alternative form of income that proves you could pay back the loan responsibly.¹
Suppose you find yourself struggling to make a car title loan payment. In that case, you don't have to go through it alone. Just give a title loan agent a call before you default to discuss your potential options, like refinancing! Dial the toll-free number 855-422-7402 to speak with a title loan agent today.
Do you feel like you could benefit from a title loan? Go online to take advantage of a quick and straightforward approval process with ChoiceCash!¹
If Your Car Needs to Be Paid Off, Inquire About a Title Loan Online Today!
You could get the money you need to cover an unexpected expense, even if your car needs to be paid off! Simply inquire about title loans online with ChoiceCash to start the approval process.¹ You may receive funds in as little as one business day if you are approved for funding.¹ Just follow these three basic steps to find out if you can obtain money in no time¹:
Inquire About a Title Loan By Submitting a Short Form Online or Calling a Title Loan Representative with ChoiceCash at 855-422-7402.
Submit These Documents So a Title Loan Agent Can Verify Your Information:

Proof of Income
Proof of Government-Issued Photo Identification
The Title of Your Car, if Paid Off
Proof of Residency
Recent Pictures of Your Vehicle
Professional or Personal References (or Both)

Get Your Money!¹
Find out if your vehicle and income qualify for a title loan by starting on your title loan today!¹ The approval process can be streamlined from start to finish. In fact, the inquiry process was created to help borrowers like you in a tough financial emergency. So don't wait to see if you can qualify for the financial help you need!1 Contact a title loan representative with ChoiceCash at 855-422-7402 today.