How Can I Get Cash When My Bank Account is Negative and I Have No Money?
Nobody wants to check their bank account and discover that they have no money and their account is negative! Overdrawing your bank account is not the end of the word, but it is an issue that needs to be dealt with promptly. Having a negative account balance is something you can potentially fix and prevent by making smarter financial choices, such as managing your spending habits and creating an effective budget. Are you asking yourself, "How can I get cash when my bank account is negative and I have no money?" While having a negative bank account balance is disconcerting, you need a clear head in order to take the necessary steps to handle this situation.
If you're searching for quick ways to get cash when your bank account is negative and you have no money, consider the following options that may be available to you:
Getting a Second Job: Getting a second job can be a viable option for dealing with a negative bank account balance. By earning additional income, you can use the extra funds to cover any overdraft fees or outstanding debts that have caused your account to go negative. Additionally, taking on a second job can help you build up your savings account and create a buffer in case any other financial emergencies happen in the future. Make sure to look for a job that can work around your current schedule!
Asking Close Friends or Family Members for Help: You can ask your close friends or family members for a loan to deal with your negative account balance. However, it is important to keep in mind that asking people in your life for money will change the nature of your relationship.
Applying for a Loan: Applying for loans with a negative bank account is possible. If you have a decent credit score, consider applying for a personal loan to get some extra money. However, if your credit score is less than stellar, you may want to apply for a loan option that can cater to subprime borrowers, such as a title loan! A car title loan is a type of secured loan that can allow you to borrow against the value of your car and access emergency cash.1
Visit the FAQ page or call 855-422-7402 to speak to a ChoiceCash title loan agent and learn more about the application process for car title loans.1
Can You Apply for Title Loans with a Negative Bank Account?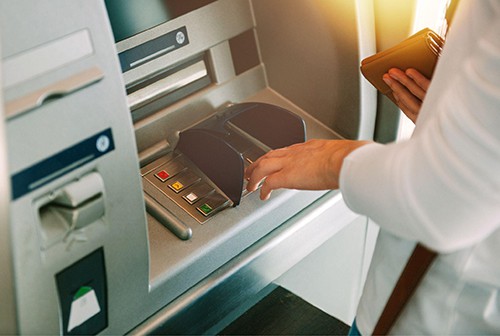 Yes, applying for title loans with a negative bank account is possible. If you're stuck in a tough financial situation, you need a flexible loan option. With ChoiceCash title loans, you can expect a flexible application process that was designed to help people just like you in a financial emergency! In fact, qualified borrowers can receive their quick funding in as little as one business day.1
If you don't have the cash you need to handle your negative bank account, a ChoiceCash title loan could be a potential solution!1 To obtain approval for a title loan, you will need to meet the initial application criteria and submit a few important documents in order to verify all of your information.1
To apply for a ChoiceCash title loan serviced by LoanMart, simply fill out a short inquiry form online or give us a call at 855-422-7402. Our title loan representatives are available for extended hours 6 days a week to walk you through the application process.
Applying for the emergency cash you need shouldn't be a hassle! With ChoiceCash title loans, you can access a convenient, three-step application process that you can start from the comfort of your home today.1
How to Clear a Negative Bank Account Balance?
Looking to learn more about how to clear a negative account balance? Although having an overdrawn account is stressful, you can potentially fix it! Take a closer look at some of the necessary steps you need to take in order to clear a negative account balance:
Figure Out How Much Money You Need To Get a Positive Balance: Before you can decide how you are going to get the money you need for your bank account to be positive again, you need to figure out exactly how much money you need. The easiest way to check your bank account balance is to sign into your account on your bank's online banking website and review your account balance and transaction history. You should look for any unexpected fees, overdraft charges, or unauthorized transactions that may have contributed to the negative balance – if there are, reach out to your bank to see if the fees can be waived, and be sure to dispute any unauthorized transactions. Then, find out exactly how much money you will need to put into your account to get a positive balance again, and write that number down. It is important to regularly check your account balance so you don't lose track of how much you're actually spending.
Determine Your Available Options to Balance Your Checking Account: Once you've figured out the exact amount of money needed to make your checking account positive again, the next step is to return your account to positive territory. If your checking account is negative, you should consider transferring money from your savings account into your checking account. If you have physical cash or a check you can deposit, the quickest solution is to visit your local bank branch to handle the issue. You may be able to complete a mobile check deposit through your bank's mobile app as well. Sometimes, if your account is overdrawn and you make a deposit or transfer that brings your account balance positive (usually on the same day or the following business day), your bank may waive the applicable overdraft fees as a courtesy. However, if you don't have the necessary funds readily available to bring your account balance positive, there are still other options to explore. One option you can consider for emergency cash is a ChoiceCash title loan serviced by LoanMart! ChoiceCash title loans can offer qualified borrowers certain benefits, such as competitive interest rates, a simple online application process, and zero hidden fees.1
What Should I Do if My Bank Account is Negative $1,000?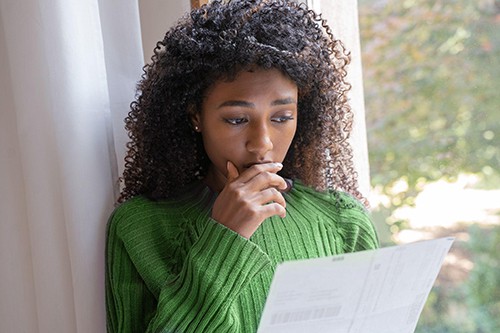 If you're feeling overwhelmed because of facing a negative $1,000 bank account balance, your situation may be slightly more complicated. Your friends and family may be willing to lend you $200 to handle your financial situation, but $1,000 is a lot to ask for! Additionally, you may not have $1,000 lying around in a savings account to save the day.
In fact, according to the Motley Fool, 50% of Americans have less than $500 in their savings account. If you do not already have an effective budget in place, now is the time to create one in order to build your savings account. There are many online resources you can use to create a budget and learn how to manage your spending habits! When creating your budget, the most important thing you should consider is where your money goes each month. Most financial experts do not recommend spending more than 30% of your gross income on rent or mortgage payments, so it's important to go through all of your expenses carefully and find out where you can cut back in order to save money and become financially secure.
If you need $1,000 now, a secured loan like a ChoiceCash title loan serviced by LoanMart may be a resourceful option to consider. Depending on your state of residence, your income, and the value of your vehicle, you could potentially access up to $15,000 if you are eligible for a title loan!1 With a title loan, you are borrowing against the value of your vehicle by pledging your car's title as collateral for the loan. Generally, you can access anywhere from 25%-50% of your vehicle's value through a car title loan.1
So why wait to see if you are eligible for the emergency cash you need when your bank account is negative, and you have no money? Call 855-422-7402 today or click here to fill out a short prequalification form!1