How Do Title Loans on Financed Cars Work?
It is possible to obtain title loans on financed cars. However, if there is a balance owed on your vehicle, you may need to sign a written permission and authorization form during your title loan application so that the title lender can get information about your existing car loan and pay it off.
Typically, in order to qualify for title loans on financed cars, you will need to have enough positive equity in your car to meet the requirements of the title loan lender you are working with. Title loans work by using your car as collateral for funding, so as long as your vehicle has a considerable amount of value, you may obtain loan approval.1
If you qualify for a title loan and sign your contract, the remainder of your existing loan on the financed car will be added to the principal amount of your title loan. But, don't let that discourage you from applying for the financial help you need through a title loan. If you're close to paying your auto loan off, your vehicle may have enough positive equity to qualify as collateral for a title loan.1
Looking for title loans on financed cars? It only takes a few minutes to fill out the online prequalification form! You can also call 855-422-7402 to speak directly with a ChoiceCash title loan agent. With a ChoiceCash title loan serviced by LoanMart, the application process can be quick and convenient. If you qualify, you could obtain your loan proceeds in as little as one business day or less! So why wait to see if you qualify for emergency cash?1
How Can I Find Out the Current Amount of Equity in My Financed Car?
Vehicle equity can be calculated by subtracting the amount you owe on your car loan from the current market value of your vehicle. The market value of a car is based on a few different factors, such as its age, mileage, and condition. You can use websites like Kelley Blue Book to learn more about the market demand for your vehicle and get an estimate of its current value.
You can also use this calculator tool to receive a car equity estimate and loan quote, free of obligation to ChoiceCash borrowers!1 Your vehicle will have positive equity if your car is worth more than the outstanding loan balance on it.
Can You Get Title Loans for Cars Not Paid Off Yet?
Yes, it is possible to get title loans for cars not paid off yet as long as your vehicle has enough positive equity! A title loan is a collateral-based loan, meaning that it is secured through your vehicle's title. Since collateral is used to guarantee the loan, the value of your car is the most crucial part of the inquiry process.
In order to use a financed car as collateral, a borrower will need to provide evidence of sufficient income during the loan inquiry and a title to a qualifying car in their name. The total loan amount that a qualified borrower can receive will be largely based on these two key factors:1
The Amount of Positive Equity in Their Car
Their Income
In some cases, you will not need to own your vehicle outright in order to qualify for a car title loan. As long as you have a title to a qualifying vehicle in your name and can demonstrate your ability to repay the loan, it is possible to obtain loan approval!1
What Happens if I Use My Financed Car as Collateral for a Car Title Loan?
If you use your financed car as collateral for a title loan, a title lender will add a lien on your title after you sign your loan contract and the loan is funded. You will still be able to maintain access to your car while you are paying off your loan as long as you are on time with your payments.
If you default on your loan, the title lender may decide to take action and repossess your car. Many title loan lenders prefer to avoid vehicle repossessions, so if you have any trouble with your monthly payments, it is important to reach out before you default on the loan. In some cases, they may be willing to work with you. Call your lender or loan servicer to discuss your options if you are struggling during the repayment period! You may be able to refinance your loan if you are struggling to make your loan payments, but it is incredibly important to prioritize your financial obligations and avoid loan default.
Many lenders can offer borrowers automatic payment options, so if you are forgetful, it may be advantageous to enroll in automatic payments. That way, you can ensure that your payments are made on time, and you can potentially avoid late fees or penalties!
If you have any questions about using your financed car as collateral for a loan, don't hesitate to reach out and call 855-422-7402. ChoiceCash title loan agents are available to take your call 6 days a week for extended hours!
What Documents Do I Need to Get a Title Loan While Still Making Payments?
Do you want to get a title loan while still making payments on your car? The application process for title loans on financed cars can be speedy, flexible, and straightforward!
But in order to get title loans for cars that are not paid off yet, applicants will need to upload a couple of documents during the approval process. These documents can help speed the approval process and allow a loan agent to verify the information provided on the prequalification form!
The necessary documents can be submitted online or sent to a title loan agent via email or text message. You can expect to need:1
A Valid Government-Issued Photo ID
Proof of Address
A Qualifying Car Title in Your Name
Evidence of Income
Recent and Clear Photos of Your Car
You can use a valid, government or state-issued photo ID, like a driver's license or passport, to prove your identity and age during your application. For proof of address, you can typically submit a recent piece of official mail, like a bank statement or a utility bill. You can also submit a recent lease agreement or credit card statement.
Some title lenders will require an applicant to undergo a physical car inspection in order to determine its value and current condition. However, with ChoiceCash title loans serviced by LoanMart, you can use a few recent photos of your car to complete a virtual inspection instead!
To complete an online car inspection, you will need to take pictures of all sides of the car and include a few shots of the odometer reading and the VIN (Vehicle Identification Number). If you have any questions about the requirements to get a title loan or the documents you will need during the application process, you can conveniently visit the FAQ page on the ChoiceCash website! Or, just give us a call at 855-422-7402.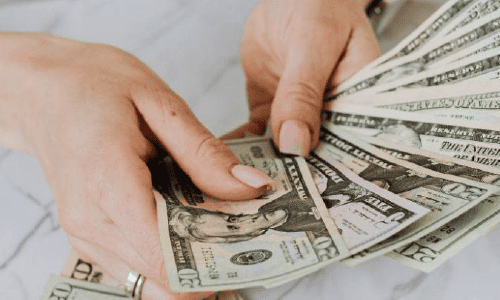 Where Can I Apply for Title Loans on Financed Cars?
Are you wondering, "Where can I use my car as collateral if I still owe on it?" You can use your car's title to unlock emergency cash today – even if you are still financing it! With ChoiceCash title loans, the entire approval process is just three simple steps:1
Place a Loan Inquiry Online or Over the Phone to Get Pre-qualified1
Send in a Few Documents to Verify Your Information
Find Out if You Qualify for a Title Loan!1
Ready to get started? Click the inquiry form on the website or call a ChoiceCash title loan agent at 855-422-7402 today to apply for the financial help you need. Qualified borrowers can get their cash in as little as 24 hours! If you need emergency cash to solve a financial crisis, ChoiceCash title loans serviced by LoanMart could be the solution.1