What Does it Mean to Default on a Loan?
You can default on your loan if you fail to repay the loan according to the terms of the loan agreement. The number of missed payments that lead to loan default will depend on your state of residence and lender. If you do not pay your loan obligation by the due date, you will likely be charged a late fee. In general, late fees can range between $25 and $50.
Defaulting on a loan is a serious issue because it can negatively affect both your credit score and financial future. If you are unable to keep up with your loan payments, make sure that you contact your lender or loan servicer and discuss your options.
With a ChoiceCash title loan, you could set up automatic payments to stay on top of your installments. Whenever you are unable to make a payment, make sure you reach out and explain your situation. Keep reading to learn more about what happens if you default on a title loan and how to avoid it.
What Happens if You Default on a Car Title Loan?
So, what really happens if you default on a title loan? Several factors can affect the outcome of defaulting on a car title loan, including:
Your Title Loan Lender: title loan lenders can have different internal policies and procedures relating to loan default. For example, some lenders may decide to attempt to repossess your vehicle as soon as they are legally entitled to do so, while other lenders may prefer to work with past-due borrowers by offering loan extensions or loan modifications in order to avoid repossession, even when they could already legally attempt to recover the vehicle.
Your Loan Contract: your loan contract may include clauses that address items such as third-party collection costs, auction fees or attorney fees that may come into play if you default and your vehicle is repossessed and sold. The contract may also include clauses in regards to loan defaults potentially being reported to the credit bureaus.
The State You Reside In: in some states, borrowers are entitled to legally required notices before a vehicle can be assigned for repossession, and some states even mandate a minimum number of days that a loan account must be past-due before a vehicle can be assigned for repossession. Some states on the other hand have no such rules. If you default on a car title loan, it's important to research and be aware of the laws that apply to your state.
Since you're using your vehicle title as collateral to secure the loan, title lenders can repossess your car if you default. If the car is repossessed, the lender can sell the vehicle to cover the remaining balance of your debt. But if that does not cover the full amount that you owe, you could still be responsible for the remainder of the debt.
Keep in mind that you may be responsible for additional fees, such as storage or repossession fees. In some cases, you are given the chance to catch up with your payments to get your car back before it is sold at auction. Some states require a lender to notify you before the repossession happens or the vehicle is sold at auction. Each state has different laws that can dictate how vehicle repossessions are handled.
Often, vehicle repossession is the last resort because it is a hassle to arrange. Most lenders would rather work with you to find an alternative solution. However, repossession is a consequence to be aware of, and it can happen if you default on a title loan.
What Happens if Your Car is Repossessed?
If your car is repossessed by the lender, it can be sold at auction. The money that the lender acquires from the sale will go toward your debt. However, the lender must give you the difference if the proceeds from the sale are more than what you owe. If there is any property left within the car, then the lender must return it to you or allow you to come and collect it.
While it is possible to recover your vehicle if it has been repossessed, it is best to work with your lender to avoid repossession altogether. It is important to contact them before you default on your title loan, so you can discuss your options. You could potentially work out a new payment plan with your lender, get a payment deferral, or refinance your title loan.
If you're struggling to repay your loan, make sure that you reach out to a ChoiceCash title loan agent. You're not alone! ChoiceCash title loan has agents available 6 days a week for extended hours to take your call.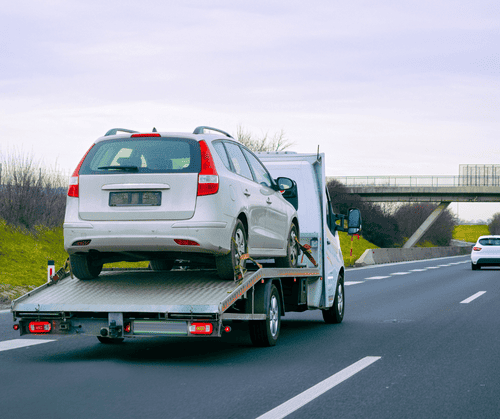 How Can You Prevent Title Loan Default?
Now that you understand the potential consequences of defaulting on a car title loan, it's essential to know how to avoid it. You can take certain steps to prevent loan default, but one of the best courses of action is to be open and honest with your lender.
Take a look at some ideas to avoid defaulting on an auto title loan:
Can You Apply for Title Loan Refinancing to Avoid Defaulting on a Car Title Loan?
If you're worried about defaulting on your title loan, you could refinance it. When a borrower refinances a loan, they replace their current loan obligation with a new one that (hopefully) has better terms. Your current title loan must be in good standing in order to refinance it. If your loan is currently in default, you must get it in good standing before you can refinance it.
The steps to refinance your title loan are similar to applying for one:
Submit a Brief Inquiry Form Online, or Over the Phone With a Title Loan Agent at 855-422-7402.
Submit Some Documents to Verify Your Information
Sign the New Title Loan Contract if You Qualify
Whether you're refinancing your current title loan or applying for a new one, the application process can be hassle-free with ChoiceCash title loans.1 Go online or call 855-422-7402 to get started!