THINGS TO KNOW ABOUT
?
WHAT ARE TITLE LOANS IN JACKSONVILLE, FLORIDA?
With a ChoiceCash title loan, qualified borrowers can use their vehicle's title to secure funding. A car title loan in Jacksonville, Florida, can be a unique opportunity for a person to access their car's positive equity and turn it into cash!
Since you secure an auto title loan through collateral, the approval process can be much more flexible for borrowers with a lower credit score!1 With a car title loan, you use your car's title to secure funding instead of just your credit history.
These two factors will matter the most during the approval process:1
The Value of Your Collateral
Your Ability to Pay Off Florida Title Loans
If you're seeking fast and convenient funding, a car title loan can be just what you need!1 With loan options like a ChoiceCash title loan, you could get money in as little as 24 hours if you qualify!1 Go online or contact a ChoiceCash title loan representative at 855-422-7402 to start on your loan inquiry today!
DO I NEED PERFECT CREDIT TO QUALIFY FOR A CAR TITLE LOAN IN JACKSONVILLE, FLORIDA?
The problem with most unsecured loan options is that borrowers need good credit to get approved for cash. That means Jacksonville borrowers with bad credit may not have the chance to apply for an unsecured loan! But past mistakes shouldn't always keep you from getting financial peace of mind under stressful circumstances.
When you inquire about a ChoiceCash title loan in Florida, your credit score isn't the main focus during the eligibility process.1 Instead, your car title and income level are the main components determining qualification and the loan amount you could receive.
Keep in mind that you will go through a credit check during the approval process. But don't be alarmed! It may not disrupt your chances of getting the funds you need for an emergency! Unfortunately, a hard inquiry will be placed on your credit which may take a few points from your credit score, but you could see it improve with on time payments and effort on your part over time.
WHAT ARE THE REQUIREMENTS FOR AUTO TITLE LOANS IN JACKSONVILLE, FLORIDA?
Applying for a traditional loan may seem like a hassle, but car title loans could be simple to inquire about!1 You would only have to satisfy some initial requirements to qualify for a Florida title loan.1 Besides having a vehicle title and reliable income, you must also meet the following criteria:
Have a Qualifying Vehicle with Enough Equity in Your Car
Be at Least 18 Years of Age or Older
If you are like most Jacksonville borrowers, you may not know how much value your car has. Fortunately, an online calculator tool is available for ChoiceCash title loan borrowers to quickly obtain an estimate with a no-obligation quote.1 Simply input a few details from your vehicle to use the calculator:1
The Make or Model of Your Car
The Year a Manufacturer Released Your Vehicle
The Style of Your Car, Which Refers to Its Body and Size
The Current Mileage Listed on Your Vehicle's Odometer Reading
Any Modifications or Alterations Made to Your Car
The Current Condition of Your Vehicle
With this information, you could easily determine if your car qualifies for a car title loan.1
Be aware that a ChoiceCash title loan agent may also ask you to submit some documents. While the Florida Highway Safety and Motor Vehicles Department would require additional paperwork, you can anticipate submitting the following:
Proof of Alternative Income or Reliable Income: Borrowers don't need a 9-5 job to prove they can afford to repay a title loan.1 They could just present alternative sources of income, such as pay stubs, bank statements, worker's compensation, or other valid documents.
Proof of Jacksonville, Florida Address: You could easily prove your residence to a ChoiceCash title loan agent by showing recent mail, utility bills, recent credit card statements, etc.
Recent Photos of Your Qualifying Car: Take clear and visible images of your vehicle's hood, rear, driver's side door, passenger-side door, odometer reading, and Vehicle Identification Number(VIN #).
A Valid Government/State-Issued Identification: To prove your identity, you could present a driver's license, passport, or other certified state identification cards to a ChoiceCash title loan representative.
Some References (Personal, Professional, or Both)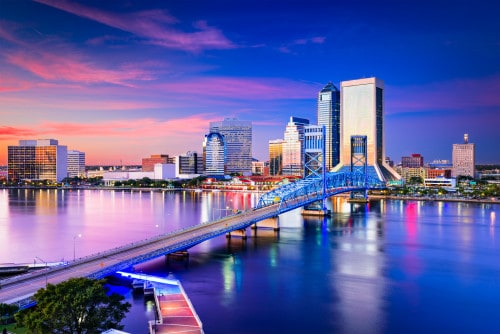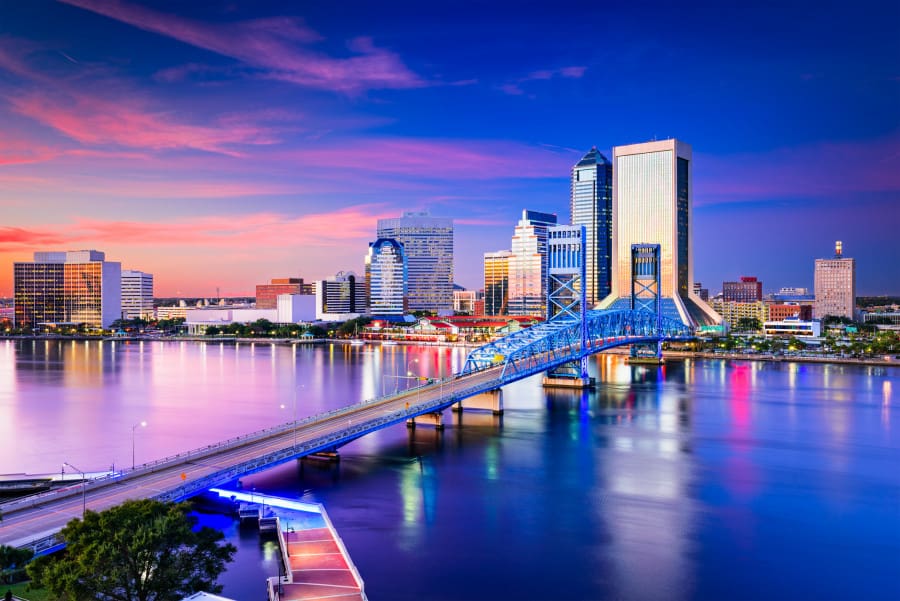 HOW DOES THE ONLINE INQUIRY PROCESS FOR JACKSONVILLE, FLORIDA, TITLE LOANS LOOK LIKE?
Many traditional loans require borrowers to apply for one in person; although some might be okay with that, others might find it inconvenient. For them, it could mean they would waste time and gas money traveling to a physical location to acquire funding. It's understandable if they have a limited period to cover their unexpected expenses!
Thankfully, Florida borrowers could inquire about a ChoiceCash title loan from the comfort of their homes!1 They would only have to complete these three easy steps to be eligible:
Submit a Car Title Loan Inquiry Form Online or Over the Phone with a ChoiceCash title loan Agent at 855-422-7402
Send in Your Required Documents
Get Approved in Jacksonville, Florida, and Get Your Money!1
If you could get your cash in as little as one business day, why wait to see if you qualify for a ChoiceCash title loan?1 Get started on your loan today by going online or dialing the toll-free number!
WHAT CAN I USE AN AUTO TITLE LOAN IN JACKSONVILLE, FLORIDA, FOR?
Once a borrower has met the requirements to get approved for car title loans in Jacksonville, the next step is to spend the funds! But what can you use your title loan money for?
While not every person's financial emergency looks the same, here are some common ways that a borrower will spend their cash:
Cover the Expenses of a Wedding or Funeral
Veterinarian or Medical Bills
Home and Car Repair
Surgery Costs
Home and Vehicle Maintenance
Debt Consolidation
Covering the Rent or Mortgage Payments
Vacation and Travel Expenses
While unexpected expenses can happen unexpectedly, a car title loan could help you get funds as soon as the next business day!1 The funding could be fast, and the approval process is streamlined to assist borrowers like you in an emergency.1
DO I NEED A BANK ACCOUNT TO ACQUIRE A CAR TITLE LOAN IN JACKSONVILLE, FLORIDA?
Most traditional lenders tend to require borrowers to send their bank account information before they send them funds. Yet, you may not have to stress about that when you apply for a title loan in Jacksonville, Florida! You would only need to demonstrate proof of income to obtain a ChoiceCash title loan without a bank account!1
Go online to take advantage of a flexible and convenient title loan process when you inquire about a ChoiceCash title loan in Jacksonville!1 It might only take a few minutes to finish the process before you're approved for quick funding.1 Don't forget to speak with a ChoiceCash title loan representative at 855-422-7402 if you have any questions.
WHAT ARE THE BENEFITS OF ONLINE TITLE LOANS IN JACKSONVILLE, FLORIDA?
There are more benefits to applying for a car title loan in Florida besides quick funding.1 Through a ChoiceCash title loan, Jacksonville residents can take advantage of these exclusive perks after loan approval:1
Competitive Interest Rates:1 A loan's interest rate usually determines the amount you'd have to pay back during repayment. Essentially, it is the cost of borrowing money, and it is a separate quantity from the principal amount. The issue with many loan options is how expensive and excessive these rates can be. But with a ChoiceCash title loan, qualified borrowers can anticipate competitive interest rates.1
A Flexible and Fast Approval Process:1 Using collateral to secure a loan could make the approval process more flexible.1 It could be even more convenient when you can apply online!1 Through that method, you could receive an approval status in no time at all!1
Excellent Customer Service For Florida Residents: ChoiceCash title loan representatives are empathetic, thoughtful, and dedicated people that work to help you with whatever you need. When you dial 855-422-7402,you'll talk to a ChoiceCash title loan agent who understands your situation. They are available six days a week for extended hours to assist in any way possible.
Payments That May Decrease:2 By simply making consistent, on-time payments, ChoiceCash title loan borrowers may have the opportunity to earn a lower interest rate and installment each month! This reward could help lower your monthly payment and set responsible borrowers up for success.2
Keep Driving Your Car In Jacksonville, Florida: Since you use your vehicle title as collateral for the loan, it's understandable to worry about the status of your car during the approval process. Luckily, borrowers that make their payments on time can keep their keys and regular driving routine!
In addition to these benefits, borrowers could also have the chance to get more cash, work with zero hidden fees or prepayment penalties, and an online portal to stay up to date with their title loan!1 Does this loan type sound like a right fit for you? Just take advantage of a quick and easy title loan process to earn your car title loan in a flash!1
Call a ChoiceCash title loan representative at 855-422-7402 or visit the website to begin a loan inquiry from anywhere in Jacksonville, Florida!
CHOICECASH TITLE LOAN STATISTICS FOR JACKSONVILLE, FLORIDA
ChoiceCash title loans serviced by LoanMart has been available in Florida since March 2019. As one of the premier title loan options in Jacksonville, ChoiceCash has already provided funding for more than 373 Jacksonville, Florida residents. Since becoming available in Jacksonville the average loan amount for ChoiceCash customers has been $3,329.1 The average mileage for vehicles used to obtain a ChoiceCash title loan in Jacksonville, Florida has been 138,875. But don't worry if your car has more miles – there is no specific maximum odometer reading that your car needs to comply with in order to be eligible for a ChoiceCash loan.
HOW CAN I PAY FOR MY JACKSONVILLE TITLE LOAN IN PERSON?
Now that you know how to apply for a ChoiceCash title loan in Jacksonville, Florida, you may be curious about the repayment process. There are a few different ways for you to pay off your auto title loan. Simply pick the payment method that is most convenient for you!
Through a ChoiceCash title loan serviced by LoanMart, there are multiple options for repayment, such as:
Pay Over the Phone Using a Credit or Debit Card
Set Up an Automatic Electronic Withdrawal
Use Your Smartphone and Pay Through the App
Pay via Mail By Sending a Check, Money Order or Cashier's Check to a Payment Center
If you prefer to do things in person, you could easily make a payment at a MoneyGram location near you!1 Take a look at the map and location list below to see where your closest MoneyGram location is:
Addresses shown display closest MoneyGram locations. Map displays all MoneyGram locations in general vicinity.
Want to repay your car title loan quickly? You can do some things to become a responsible borrower and make your payments on time. For example, you could follow the 50/30/20 method to keep track of your finances and pay your loan down quickly.1 This type of budget plan allows you to prioritize your spending and focus on your necessities. Other methods you could use to manage your payments include:
Pay Off Your Title Loan Early

Be on Top of Every Statement and Payment Dates

Make Extra Cash on the Side When You Can

Pay More Than What You Need Each Due Date, If You Can

Calculate the Interest and Create a Payment Plan to Pay Quickly

Ask a ChoiceCash title loan Agent for Help or Advice
That last strategy is one you shouldn't hesitate to take advantage of! Remember, ChoiceCash title loan representatives are available to help in any way they can. So no matter what issue you go through, a ChoiceCash title loan representative is ready to take your questions. Dial 855-422-7402 to learn more!
Locations near Jacksonville, Florida
ChoiceCash is proud to service residents all over Florida including metro areas Miami, Orlando, and Tampa. Call 855-422-7402 to discuss your options with a loan expert, or see the city list below to see where your MoneyGram locations near Jacksonville:
Featured Locations near Jacksonville, Florida
Nearby States by Florida That offer a ChoiceCash Title Loan