THINGS TO KNOW ABOUT
?
WHERE CAN I GET SAME DAY TITLE LOANS IN ST. PETERSBURG, FLORIDA?
People that inquire about ChoiceCash title loans in St. Petersburg, Florida, could take advantage of a convenient approval process! Just use your smartphone or computer to inquire anywhere in St. Petersburg. No need to waste time driving around the city when you have an online inquiry form ready at your fingertips.
With car title loans, you could take advantage of a flexible loan option that could provide secure funding through your vehicle title!1
Auto title loans can often be available to Florida residents from different credit and financial backgrounds. With a car title loan in St. Petersburg, your credit history isn't the main focus during the approval process. Instead, you could access your car's equity and turn it into cash since title loan lenders use your vehicle title to secure money! Yet, it's important to note that your car must have a certain amount of equity to qualify for a title loan in St. Petersburg, Florida.1
Find out if you qualify for emergency cash in no time. Dial 855-422-7402 to get started on an inquiry for a ChoiceCash title loan in Florida today!1
ARE CAR TITLE LOANS ALLOWED IN ST. PETERSBURG, FLORIDA?
The answer to that question is yes! If you have a paid off or close to paid off vehicle, you could apply for a title loan in St. Petersburg, Florida. While some states have restrictions in place for auto title loans, the state of Florida is different. It has specific requirements and regulations for title loan lenders, but borrowers are welcome to apply for funding through this loan option.
Go online or speak with a ChoiceCash title loan agent to begin your loan inquiry today! Dial 855-422-7402 to learn more.
HOW DO I QUALIFY FOR A TITLE LOAN IN ST. PETERSBURG, FLORIDA?
Rather than requiring you to have a perfect credit score like many traditional loan options, the requirements for a car title loan in Florida work differently. Since auto title loans gain security through the equity in your vehicle, the approval conditions could be flexible for people from various financial backgrounds.
In terms of your potential eligibility for a title loan, these factors are the most important:
Your Ability to Repay AutoTitle Loans
Be aware of how your ability to pay off loans is essential for loan approval. Instead of just relying on your credit score, your title loan lender will look at your overall income to verify that you can afford a loan payment. Fortunately, you don't need a traditional 9-5 career to prove your income. Instead, you could just present an alternative qualifying form of income to prove you can pay off your car title loan.1
Enough Available Equity in Your Vehicle
To qualify for an auto title loan, you must have positive equity in your car; this means you have enough positive equity to secure a loan amount via collateral. The amount of equity a title loan lender can find in your vehicle will determine your eligibility and loan amount. You must have the title of the vehicle you're using, and it must be in your name.1
With proof of income and a qualifying vehicle, the inquiry process for a title loan in St. Petersburg, Florida, could be convenient!1
WHY CHOOSE A CAR TITLE LOAN?
Although the median household income in St Petersburg, Florida, is slightly above the state average ($57,703), the poverty rate remains at 11.6%. That means that many St. Petersburg residents could still be suffering. Financial hardship can happen indiscriminately.
Additionally, with the cost of living rising to 9.1%, it can be difficult to make ends meet each month! Food, gas, utilities, and even rent prices are increasing exponentially. Combined with a sudden job loss, these factors could throw anyone's budget out of whack! A car title loan could be the solution to these unexpected financial issues.
WHAT IS THE APPROVAL PROCESS LIKE FOR A CAR TITLE LOAN IN FLORIDA?
If you inquire about a ChoiceCash title loan in St. Petersburg, Florida, you could expect to get through a quick and simple approval process. You would only have to complete the following three steps:1
Submit a Short Title Loan Inquiry Online, or Over the Phone with a ChoiceCash title loan representative at

855-422-7402

Send in Your Necessary Documents
Get Your Money if You Qualify for a Title Loan in St. Petersburg, Florida
WHAT DOCUMENTS DO I NEED TO APPLY FOR A SAME DAY AUTO TITLE LOAN IN ST. PETERSBURG, FLORIDA?
Typically, there are some documents you would have to submit as part of the approval process for online car title loans in St. Petersburg, Florida.
Make sure you speak with a ChoiceCash title loan agent to see if the state of Florida requires additional paperwork during the inquiry process.
You can anticipate turning in the following basic documents when you apply for a car title loan:1
A Vehicle Title in Your Name
Proof of a Florida Address
Proof of Reliable Income
Proof of Valid, Government/State-Issued Identification
Recent and Clear Images of Your Vehicle
References
As soon as you submit each document online, you could quickly move on to the final step in the loan application.1 Since you can submit your documents online, if you need to resubmit documents, you can without a big hassle!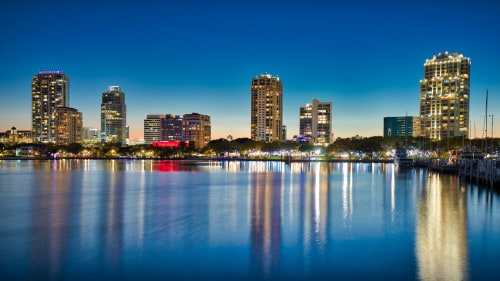 CAN I GET TITLE LOANS WITHOUT PROOF OF INCOME?
No, you cannot apply for car title loans without proof that you can afford to repay the loan. Although proof of income is required, it does not need to be a 9-5 job or a traditional career! Simply present an alternative form of income to prove you can afford a title loan.1
Some income sources you could use for this requirement include:
Bank Statements
Social Security/Supplemental Security Income
Worker's Compensation
Settlement Income
Pension Income
Not sure if your income qualifies? Call a ChoiceCash title loan agent at 855-422-7402 to help clarify things. If you have an alternative income, you could still acquire the money you need for your situation.1
WHAT ARE THE BENEFITS OF ONLINE TITLE LOANS IN FLORIDA?
A borrower could access many valuable benefits by choosing a ChoiceCash title loan serviced by LoanMart for funding. Not only could you take advantage of a flexible approval process, but there are exclusive perks that could add to your overall loan experience!1
Take a closer look at some of the potential benefits:
Bad Credit Isn't Always an Issue!1
A Flexible and Convenient Loan Process1
Superior Customer Service For St. Petersburg Residents
Payments That May Decrease2
Quick Funding1
No Hidden Fees or Prepayment Penalties
Borrowers Can Access An Online Portal to Keep Track of the Loan
Borrowers That Make On-Time Payments on Their Loan Can Keep Driving Their Vehicles in St. Petersburg, Florida!
If you're struggling financially, find out if you can qualify for car title loans in St. Petersburg! Go online or call a ChoiceCash title loan agent at 855-422-7402 to begin your loan inquiry today.
WHAT ARE THE DISADVANTAGES OF GETTING CAR TITLE LOANS IN ST. PETERSBURG, FLORIDA?
While auto title loans can be a sound option to consider if you are struggling financially, you may wonder if they have any disadvantages. The truth is that just like any other loan type, a title loan could have some potential risks. However, you could potentially avoid some of these risks if you're a responsible borrower!
Here are some disadvantages associated with a car title loan in St. Petersburg:
Lose Your Car to a Repossession: Be aware that title loan lenders can repossess your vehicle if you fail to repay a car title loan. Yet, most lenders prefer to avoid that scenario since it could be difficult for them to arrange a repossession. If you communicate with your lender and work out a solution, you could get the chance to make a payment! But it's possible to avoid this consequence if you make consistent, on-time installments.1
High-Interest Rates: One of the downsides of a title loan can be its interest rates. Some car title loans will only offer high-interest rates available. But, other title loan options like a ChoiceCash title loan could have competitive rates for qualified borrowers.1
Credit History Could be Negatively Impacted: On top of a repossession, failing to meet your title loan payments could negatively impact your credit. However, that's true with any other loan option! If you sign any loan agreement, you agree to the loan terms, which means you will repay it on specific due dates. Don't forget to make on-time payments to avoid defaulting on your car title loan. Some lends can offer grace periods, but others do not.
HOW CAN I PAY FOR MY ST. PETERSBURG TITLE LOANS IN PERSON?
While most lenders ask borrowers to repay loans in person, you could opt to pay a ChoiceCash title loan online! However, if you prefer to make payments in person, you could simply visit a MoneyGram location nearby to complete your title loan installments! Dial 855-422-7402 to discuss your options with a ChoiceCash title loan representative, or see the map and location list below:1
Addresses shown display closest MoneyGram locations. Map displays all MoneyGram locations in general vicinity.
Locations near St. Petersburg, Florida
ChoiceCash is proud to service residents all over Florida including metro areas Jacksonville, Miami, and Orlando. Call 855-422-7402 to discuss your options with a loan expert, or see the city list below to see where your MoneyGram locations near St. Petersburg:
Featured Locations near St. Petersburg, Florida
Nearby States by Florida That offer a ChoiceCash Title Loan