THINGS TO KNOW ABOUT
?
FIND ONLINE TITLE LOANS IN MIAMI, FLORIDA
A difficult financial situation can often come out of nowhere. A few unexpected bills or expenses could set your budget back this month, and you may not know what to do. Some Florida residents may sell items online or start working multiple jobs, but these options can be inconvenient and time-consuming. Even if you ask friends and family for help, they might not have enough money to cover what you owe or need. You may consider a loan the best choice of all your available options. Although you could be right in that assumption, many loan types can deny you if you're not in the best financial position.
Fortunately, a title loan may be a financial resource to consider for a financial emergency. With a car title loan, borrowers could use their vehicle title as collateral for the money they need. Since you use collateral to secure cash, the chances of a title loan lender approving you could be greater than your opportunity to qualify for an unsecured loan if your credit isn't up to par. Another benefit to take advantage of is the chance to access quick funding! When you inquire about a ChoiceCash title loan, you could receive money as soon as the next business day1!
If you're a resident of Miami, Florida, you could apply for an auto title loan through a flexible and convenient approval process1. You could either go online or dial 855-482-0007 to speak with a ChoiceCash title loan representative to begin your inquiry!
Read below for more information on title loans in Miami and how you could potentially acquire one today!
DO I NEED GOOD CREDIT TO APPLY FOR A CAR TITLE LOAN IN MIAMI, FLORIDA?
Suppose you suffer from a low credit score. If that is the case, you may not feel confident enough to apply for many different loan types! It's frustrating when you only need quick cash to cover expenses and cannot find someone willing to lend you money. Thankfully, with a ChoiceCash title loan in Miami, Florida, borrowers from different kinds of financial backgrounds and credit scores could potentially receive approval1.
Instead of just focusing on your credit history, these two other factors will matter the most during the approval process for an auto title loan1:
The Value of Your Collateral
Your Ability to Responsibly Pay Off Car Title Loans
Although a credit check is a part of the title loan approval process, it may not disrupt your chances of getting a loan1. Keep in mind that it could take off some points from your credit score, but you could see it improve with time and effort.
Don't let your credit get in the way of retrieving your funds! Contact a ChoiceCash title loan agent at 855-482-0007 to see how you could potentially obtain title loans without good credit1.
REQUIREMENTS FOR AUTO TITLE LOANS IN MIAMI, FLORIDA
Florida residents that wonder what they need to acquire a title loan may be pleased to know that the initial requirements could be simple and straightforward. You would only need to meet the following initial requirements when you inquire about ChoiceCash title loans in Miami, Florida1:
Possess a Title to a Qualifying Vehicle in Your Name
Provide Proof of Income or Alternative Income
Have Enough Positive Equity in Your Car
Be 18 Years of Age or Older to Apply
Once you meet these initial title loan requirements, you quickly start on your Florida car title loan inquiry. Don't forget how significant your vehicle's equity and income are when it comes to loan approval. Your ability to repay a loan and the amount of equity in your car will be important factors in the approval process. Not only will they determine your eligibility for funding, but they will also determine how much money you can potentially qualify for1.
You may also worry about having a 9-5 job to qualify for a title loan; don't stress! As long as you have the means to repay a loan, you could often use an alternative form of income to prove your ability to pay off a car title loan1. Moreover, you can always talk to a ChoiceCash title loan agent if you have problems during the repayment process. They are available six days a week for extended hours to assist you.
But what if you don't know your vehicle's current equity amount? That's fine! Equity is simply the difference between the market value of your car and what you owe on it(if anything). Thankfully, an online calculator tool is available for title loan borrowers to quickly obtain an estimate with a quote, free of obligation1. You would only need to input a few details from your vehicle to get started:
The Make or Model of Your Car
The Current Mileage Listed on Your Vehicle's Odometer Reading
Any Modifications or Alterations Made to Your Car
The Style of Your Vehicle
Any Internal or External Damage Done to Your Car
The Year a Manufacturer Released Your Vehicle
THE ONLINE TITLE LOAN APPROVAL PROCESS FOR MIAMI, FLORIDA, RESIDENTS
The approval process for a car title loan could be just as simple as the initial requirements. The loan process has been streamlined to make your life much easier1!
If you meet all the initial qualifications for a ChoiceCash title loan in Miami, you would only have to follow these three basic steps to start your loan inquiry1:
Submit a Loan Inquiry: Initiate the process of acquiring a title loan by submitting a short preapproval form online or by calling a ChoiceCash title loan representative at

855-482-0007

. Both options could take no time at all to do. If you prequalify for an auto title loan, you could move on to the next step1.
Send in the Required Documents: During this step of the loan process, a ChoiceCash title loan agent will ask you to submit a few documents. Luckily, these are documents you may already have handy! Borrowers could quickly send them online via email or fax to a ChoiceCash title loan representative1. Make sure you have the following paperwork:
Proof of Income
Proof of Residence in Miami, Florida
Government or State-Issued Identification, Such as Your Driver's License, Passport, or Other Certified State Identification Cards
The Title to Your Vehicle
Some Personal or Professional References
Recent Photos of the Car
Get Your Money! If you qualify for a car title loan, you could receive your funding in as little as 24 hours1! You could choose between a check sent to your Miami address, a direct deposit to your bank account, or simply pick up your money at any participating money transfer location near you. Or, get the funds deposited directly onto a debit card1.
Don't hesitate to find out if you qualify for the cash you need right now for an unexpected bill or expense. Go online and access a quick approval process that could give you the emergency funds you need if you qualify1!
HOW MUCH TITLE LOAN MONEY COULD I GET IN MIAMI, FLORIDA?
It's understandable to wonder how much cash you'd potentially obtain when you finally get a car title loan. Would it be enough for what you need? Typically, with most title loans, the average amount you'd retrieve is up to 50% of your vehicle's value. That means you could get anywhere from $1,000-$10,000! But remember how your car's equity and current income level contribute to the final cash total you'd obtain. So if you want a significant loan amount, your vehicle would need a high-value rate. You will also need to have enough income to warrant that total1.
See how much cash you'd potentially acquire when you inquire about a ChoiceCash title loan in Florida!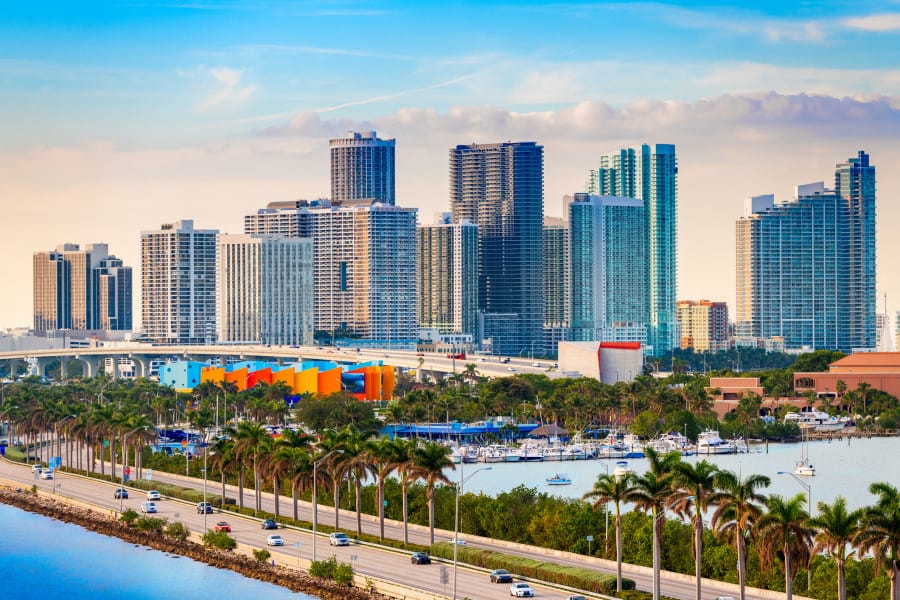 HOW QUICK IS THE APPROVAL PROCESS FOR CAR TITLE LOANS IN MIAMI, FLORIDA?
When you're dealing with an unexpected bill or expense, you cannot afford to wait long for your funds. When you have a limited amount of time to pay a bill or rent, you do not have time to waste. That's why a ChoiceCash title loan in Miami, Florida, is designed to help qualified borrowers get their money in a flash! Remember, you could get your cash in as little as one business day after approval1.
As soon as you open up the online inquiry form on your computer or smartphone, you could inquire about car title loans in just a few minutes. After that, you could receive a quick response about your potential approval status1! Miami title loans could be the solution you're searching for if you are dealing with a difficult financial situation.
Go online or dial the toll-free number to find out if you qualify for title loans in Florida today1!
BENEFITS OF ONLINE TITLE LOANS IN MIAMI, FLORIDA
When you inquire about ChoiceCash title loans in Florida, perks could add to your overall loan experience1. In addition to a simple approval process and access to quick funding, you could take advantage of some of these benefits1:
Competitive Interest Rates: A loan's interest rates are essential because they can determine how much you will repay, along with the principal of the loan. The issue with most loans is that they can have expensive and excessive interest rates if you don't have great credit. That could leave you in a lot of debt! Fortunately, qualified borrowers could anticipate competitive rates with a ChoiceCash title loan serviced by LoanMart1!
Superior Customer Service For Miami Residents: Remember how ChoiceCash title loan representatives are available six days a week for extended hours to help borrowers with inquiries and questions? Don't hesitate to dial

855-482-0007

if you have any issues during repayment or approval. You can expect to speak with a compassionate, knowledgeable, and thoughtful representative who will do what they can to help you.
Payments That May Decrease: Miami borrowers that continuously pay their title loans on time could earn the opportunity of monthly payments and an interest rate that may decrease each due date2!
Keep Driving Your Car In Miami, Florida: It's understandable to worry about your vehicle's whereabouts when getting a car title loan. If your car serves as your primary source of transportation, you wouldn't want to deal with the hassle of arranging carpools or spending money on Uber. But don't forget how title loans work by using your car's title as collateral for the loan; that means you could continue to drive your vehicle throughout the repayment period without a problem1! You would have to be on time with your monthly payments to maintain that privilege.
No Prepayment Penalties: Most lenders will punish borrowers who decide to pay a loan early. Fortunately, with a ChoiceCash title loan in Miami, you can allow yourself to pay loans as early as you'd like! There are also no hidden fees or balloon payments to work with either1.
Call a ChoiceCash title loan representative at 855-482-0007 if you want more information on the benefits you could obtain through a car title loan in Miami, FL1.
HOW DO I PAY OFF MY AUTO TITLE LOAN IN MIAMI?
Some loan options can have inconvenient repayment methods. With a ChoiceCash title loan in Miami, Florida, you could simply repay your loan online or on the phone1! You could quickly meet your monthly installments from the comfort of your home1!
It's okay if you prefer to make payments in person! Just visit a local MoneyGram location nearby to meet your payment obligations. If you don't know, you could often locate MoneyGram in convenient public stores such as Wal-Mart, Kroger, or CVS. Dial 855-482-0007 to discuss your options with a ChoiceCash title loan agent, or see the map and location list below to see where your closest MoneyGram is:
Addresses shown display closest MoneyGram locations. Map displays all MoneyGram locations in general vicinity.
Locations near Miami, Florida
ChoiceCash is proud to service residents all over Florida including metro areas Jacksonville, Orlando, and Texas. Call 855-482-0007 to discuss your options with a loan expert, or see the city list below to see where your MoneyGram locations near Miami:
Featured Locations near Miami, Florida
Nearby States by Florida That offer a ChoiceCash Title Loan