THINGS TO KNOW ABOUT
?
Learn More About Car Title Loans in Your State
Most Americans will struggle with their finances at some point in life. Inflation has increased the cost of living throughout the United States, and not everyone is making enough money to keep up with their expenses. If you miss too many bill payments, your credit score can be negatively affected, which means applying for traditional loan options can be impractical.
Many people are currently living paycheck to paycheck. Experiencing a financial emergency can be devastating and stressful without disposable income. If you need help because you lost your job or too many bills are piling up, you may think you don't have any options.
However, you can inquire about a ChoiceCash car title loan serviced by LoanMart in Orlando, Florida, to receive the cash you potentially need! This loan option can be great for people from various career backgrounds because the inquiry process can be flexible.1
Don't let a bad credit score or low funds stop you from living your life. You can potentially get financial assistance during a tough time when you inquire about title loans in Orlando! Start today by filling out this pre-qualification form or calling 855-422-7402 to speak with a ChoiceCash title loan agent.1
How Do Title Loans Work in Orlando, Florida?
The car title loan process can be simple, hassle-free, and flexible for people from different backgrounds. Auto title loans in Orlando allow an individual to borrow off of the value of their car. By putting their car title up as collateral, an individual can potentially access cash quickly.1
The lenders will place a lien on the vehicle title during repayment and remove it after everything is paid off.
Car title loans are also known as secured loan options because they rely on physical property in exchange for funding. On the other hand, unsecured loan lenders do not use any assets during approval. Instead, traditional banks will exclusively look at a person's credit history when deciding whether or not to loan quick cash.
Traditional loan lenders may deny you funding if you have a low credit score. You could face loans with high-interest rates and hidden fees if they do approve you. With a ChoiceCash title loan, you may experience competitive interest rates and no prepayment penalties!1
There will be a credit check during the car title loan inquiry process, but it's not necessarily the main focus of your approval. Instead, lenders care about the following:
How Much Value Your Car Has
If You Can Repay the Money
Car equity plays a significant role in your potential auto title loan approval and loan amount. You must have some positive equity in your vehicle to qualify for funding. You also must demonstrate the ability to repay the quick money through an income source. Federal law requires a lender to verify your income or alternative income.1
What's the Difference Between a Good and Bad Credit Score?
As an American adult, chances are you know that credit scores can influence many aspects of your life. The difference between good and bad credit scores can mean getting approved for apartments, mortgage loans, or personal loans versus facing denial.
The credit score scale is from 300-850, and it estimates how likely a person is to pay back their bills or borrowed money. Credit reporting agencies, also known as credit bureaus, gather information from your accounts to determine a score.
A person's highest score on the scale can be 850. People with excellent and great credit can reap the same benefits – you won't receive a reward for an absolutely perfect score.
On average, scores above 640 are considered good, while those below 620 are considered bad. The scale goes from excellent to great to fair to poor. Poor credit can often indicate to a lender that an individual is not trustworthy, and the lending risk increases.
What Factors Affect a Credit Score the Most?
Three main factors contribute to your overall credit score. They are:
Paying Bills on Time:
Ensuring that you're making regular monthly payments is crucial for having a good credit score. Late payments over 30 days due can stay on your credit report for years, making growing the number difficult.
How Much You Owe:
The amount you owe in credit card or loan debt can significantly impact your credit score. If you've taken out many credit cards and haven't paid many of them off, your score can be negatively affected. It's best to keep up with current payments to improve your credit.
How Long You've Had a Credit History:
This factor matters less than the first two, but the longer you've had credit, the higher your score can become. Accounts that have been paying bills off regularly can seem less risky than brand-new ones with minimum financial experience.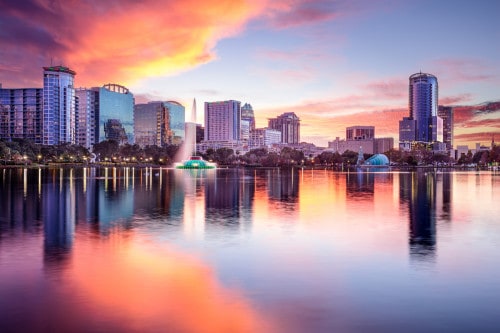 What Are the Requirements for an Auto Title Loan in Orlando, Florida?
However, perfect credit history is not required to inquire about a car title loan in Orlando. But, several basic requirements are involved with inquiring about an auto title loan. While they are relatively simple to understand, it's still crucial to know them as an interested borrower in Orlando, Florida.1
Florida residents must:
Be an Adult at Least 18 Years or Older
Have a Qualifying Vehicle Title In Their Name
Have a Qualifying Vehicle With Some Positive Equity
Demonstrate the Ability to Repay a Title Loan
You can't apply for an auto title loan in America without being an adult at least 18 years or older. Making serious financial decisions is a big responsibility; therefore, you must be mature enough to understand the risks. You can prove your age and identity with a valid driver's license or passport.
Next, you need to have a qualifying vehicle title in your name. Unfortunately, you can't inquire about title loan funding without this. However, some circumstances around current vehicle ownership may be acceptable.1
For example, you can inquire about a title loan if you still make car payments. You must sign an authorization form allowing the title loan lenders to take over the current auto loan and obtain the necessary information.1 From there, your auto loan balance will be paid off and added to the car title loan balance if you qualify.
Some title loan requirements can vary depending on which state you live in. Remember that as an Orlando, Florida resident, you will need to complete a Florida power of attorney form ("Power of Attorney for a Motor Vehicle, Mobile Home or Vessel") and an application for Notice of Lien / Reassignment of Lien or Notice to First Lienholder during the inquiry process.
Why Do I Need Positive Equity and a Steady Income to Qualify for a Title Loan in Orlando?
The last two requirements for a title loan are having positive equity in your vehicle and showing proof of income. Positive equity in your car is essential because your potential approval and loan amount will depend on this.
You can determine car equity by subtracting how much you owe on your vehicle in payments from its overall value. If you owe more money than your car is worth, you may have negative equity and won't qualify for Orlando car title loans.
To estimate your car's equity, you can use this helpful online calculator tool free of obligation to ChoiceCash borrowers. You can also use websites like Kelley Blue Book or Edmunds to receive a market value estimate of your car's worth. Vehicles with higher equity may receive higher loan amounts.1
Finally, you must show proof of steady or alternative income during the ChoiceCash title loan serviced by LoanMart inquiry process. That doesn't mean you must work a traditional career– many alternative income sources may be acceptable during approval.1
Lenders want to see that a borrower has consistent money coming in each month, but it doesn't matter if that is from working a regular job or not. Below are examples of alternative income that can be used as proof during the inquiry process:
Worker's Compensation
Social Security Income
Child Support/Alimony Payments
Tax Returns
Settlement Income
Some Self-Employment
& More
Contact a ChoiceCash car title loan agent by calling 855-422-7402.1
How to Inquire About a Title Loan in Orlando, Florida
Inquiring about a ChoiceCash title loan serviced by LoanMart in Orlando, Florida, can be a straightforward process. One of the most significant advantages to this loan option is that people can inquire about funding from the comfort of their homes, which means there is no in-person store visit required.1 Below are the steps for asking about money:
Submit the Loan Inquiry Online or Over the Phone
The first step is submitting a loan inquiry. You will provide basic information about your car and circumstances for the title loan agents to review. You can conveniently begin this process online by filling out the pre-qualification form or calling 855-422-7402 to speak directly with a ChoiceCash title loan representative.1
These methods are different from applying for some traditional financing because there is no store visit! Title loan inquiries could also take less time, with qualified borrowers potentially receiving same-day funding.1
Gather the Necessary Documents
After a ChoiceCash title loan agent looks over your inquiry, you will be asked to send the necessary documents via email or fax. If you're missing any of the documents mentioned below, contact the Florida HSMV for information about replacement procedures. It's not difficult to get a new license or apply for vehicle registration renewal!1
You will need the following:
Valid Government or State-Issued Photo I.D.
Proof of Residency in Florida
Proof of a Qualifying Vehicle Title in Your Name
Proof of Consistent Income and Ability to Repay the Loan
Recent Photos of the Vehicle
You must show proof of residency in Florida by providing an official piece of mail, like recent utility bills or bank statements. This proof is essential because title loans aren't available in every state! You must prove that you live in the right area to be considered for funding.
Providing recent photos of your vehicle is crucial because this will serve as the required virtual inspection. Lenders will want to see what condition your car is in. Make sure your pictures are clear, direct, and taken from the right angles! Blurry photos may not be acceptable, which can slow the approval process.
Obtain Approval and Receive the Money
If you meet the requirements and send in the correct documents, the final step is awaiting your potential approval. With a ChoiceCash title loan serviced by LoanMart, qualified borrowers can choose from several options for receiving their money.1 They can:
Direct Deposit into a Bank Account
Have the Money Direct Deposited Into a Debit Card
Receive a Check in the Mail
Visit a Participating Money Transfer Location in the Orlando, Florida, Area
The steps involved with a title loan inquiry can be quick and straightforward, ideal for people experiencing a financial emergency.1
What Affects How Much Title Loan Funding I Can Get?
Car equity and your vehicle's value are the biggest contributing factors to your potential loan amount. Before anyone can obtain approval for a title loan, lenders will need to evaluate your car. Lenders in different states can have varying criteria when it comes to appraisals, but there are general factors that will be considered during this process.
Not every vehicle is the same, but lenders will look at these criteria to determine your car's value:
Make, Model, and Style of the Car:
The type of car you drive can greatly impact how much it's worth. For example, a Tesla may be worth more than a Honda even though they have the same manufacturing year.
Mileage:
Car mileage is a big factor when it comes to vehicle valuation. This number signifies how much wear and tear the car has been through. Older cars that have been used heavily and driven long distances regularly may have higher mileage.
If you've driven your vehicle the average amount over the last few years, you won't need to worry about the mileage being too high. Anything below 100,000 miles is typically considered normal.
Manufacture Year:
The manufacture year for a vehicle can affect value, but it's not as straightforward as you think. Yes, newer cars are usually worth more than older ones, but just because a vehicle is old doesn't mean it will lack value. Some vehicles remain popular because of their status, making them in high demand on the market.
Overall Physical Condition:
Lenders will consider the physical condition of your car during a title loan inquiry. They will look at the interior and exterior, like if it has scratches or dents and if everything works correctly. If your windows don't roll down or there are engine troubles, your car valuation could be negatively impacted.
Updates and Modifications:
Finally, any upgrades or modifications to the vehicle are a consideration during the car appraisal for a title loan. Some upgrades are positive, like new tires or windshield wipers, while others can be negative, like big decals.
Inquire About Title Loan Funding in Orlando, Florida Today!
Credit scores can take a long time to improve. Not everyone has the luxury of making steady payments while they wait for the number to go up. If you have a poor credit score but need quick cash, you can inquire about title loan funding in Orlando, Florida!1
With a ChoiceCash title loan serviced by LoanMart, interested borrowers can experience a quick and hassle-free inquiry process. Inquiring about instant cash takes only a few minutes, and many alternative income sources may be acceptable.1
Start today by filling out this pre-qualification form or calling 855-422-7402 to speak with a ChoiceCash title loan agent.1
HOW CAN I PAY FOR MY TITLE LOAN IN PERSON
Pay back your car title loan in Orlando at any MoneyGram location in Florida. MoneyGram is often located in convenient public stores such as Wal-Mart, Kroger, or CVS. Call 855-422-7402 to discuss your options with a loan expert, or see the map and location list below to see where your nearest MoneyGram is located:
Addresses shown display closest MoneyGram locations. Map displays all MoneyGram locations in general vicinity.
Locations near Orlando, Florida
ChoiceCash is proud to service residents all over Florida including metro areas Jacksonville, Miami, and Tampa. Call 855-422-7402 to discuss your options with a loan expert, or see the city list below to see where your MoneyGram locations near Orlando:
Featured Locations near Orlando, Florida
Nearby States by Florida That offer a ChoiceCash Title Loan