THINGS TO KNOW ABOUT
?
LEARN MORE ABOUT ONLINE TITLE LOANS IN TAMPA, FLORIDA
People who struggle with financial hardship tend to look for ways to obtain quick funding. While many financial resources could help you stretch your budget this month, not all options may benefit you in the long run. You could deal with plenty of high-interest rates and hidden fees that leave you in a worse spot than before. That can be inconvenient when you just need money to get back on your feet!
Fortunately, there's an alternative option to consider. With an auto title loan, you could use your car title as collateral to secure funding. Since you use collateral to apply for car title loans, the approval process could be much more flexible and open to borrowers that may not qualify for unsecured loans. What's even better is the possibility of earning quick funding for your emergency! When you inquire about a ChoiceCash title loan, you could receive cash in as little as one business day!1
But could you access this loan type if you live in Tampa, Florida? Of course! Just take advantage of a quick and simple online approval process to retrieve funds in no time!1 You could also talk to a ChoiceCash title loan agent at 855-422-7402 to start on your car title loan.
Read below for more information on title loans and how the process works to obtain one!
HOW DOES A CAR TITLE LOAN WORK IN TAMPA, FLORIDA?
An auto title loan can be a quick and simple way to get emergency cash!1 With a title loan in Tampa, Florida, a title loan lender will base your eligibility and loan amount on the following factors:
Your Ability to Repay Car Title Loans in Tampa
The Value of Your Collateral and Available Equity
Don't forget that borrowers use their vehicle title as collateral for the loan. That means you're accessing your car's available positive equity, which is why it is so important in the approval process! Instead of primarily focusing on your credit score, title loan lenders will base your eligibility on your vehicle's equity and income level. The more your car is worth, the more you could potentially access through an auto title loan in Tampa, Florida!1
Generally, a traditional lender will see borrowers with lower credit as a lending risk. However, collateral can help offset that risk! Since collateral secures the loan, qualified borrowers through ChoiceCash title loans could experience several perks besides a flexible loan process. For example, you have the chance to receive more funding through a secured loan like a title loan if your vehicle has significant equity!1 Go online or contact a ChoiceCash title loan representative at 855-422-7402 to begin your inquiry. Just use your smartphone or computer to get started!
Are you worried about not knowing your car's current equity amount? Don't stress! Many first-time borrowers don't know it either. Thankfully, there is an online calculator tool available for ChoiceCash title loan borrowers to quickly acquire an estimate with a no-obligation quote!1 Simply input a few details from your vehicle to use the calculator, such as:
The Year a Manufacturer Released Your Car
Any Alterations or Modifications Made to Your Car
The Make or Model of Your Car
Any Internal or External Surface Damage Done to Your Car
The Style of Your Car
The Current Mileage Listed on Your Car's Odometer Reading
With this information, you could talk to your ChoiceCash title loan agent to see if it qualifies for funding! They could also help determine if your car has enough equity to warrant the amount you need!1
REQUIREMENTS FOR AUTO TITLE LOANS IN TAMPA, FLORIDA
You must meet some basic initial requirements if you want to use your car title as collateral to get an online title loan in Tampa.1
As you may know, car title loans are usually flexible with approval. Still, you will need to satisfy the following:
Income Requirement: To qualify for an auto title loan, you must be able to show proof that you can meet your payment obligations and loan terms. Yet, you don't need a traditional 9-5 career to do that! You could simply use various income sources to prove your ability to repay loans, such as: bank statements, retirement income, worker's compensation, settlement income, pay stubs, Social Security/Supplemental Security Income, pension income, or even a letter of employment from your employer!
Age Requirement: Borrowers must be at least 18 years of age or older to qualify for a car title loan. Even if you are 17 turning 18 in a month, you will need to wait until your birthday to apply!
Vehicle Requirement: Keep in mind that you must have a qualifying car when you apply for a Tampa title loan. Typically, a qualifying vehicle just means a car that is paid off, or is close to paid off, with considerable equity.1
THE ONLINE TITLE LOAN INQUIRY PROCESS FOR RESIDENTS IN TAMPA, FLORIDA
Applying for a car title loan in Tampa, Florida, doesn't have to be a hassle! With a ChoiceCash title loan, you wouldn't have to go anywhere to apply when you can inquire about one online! You would only have to follow these three simple steps to obtain quick funding:1
Submit a Short Inquiry Form Online, or Over the Phone with a ChoiceCash title loan representative at

855-422-7402

Conveniently Submit a Few Required Documents
Find Out if You Can Qualify for Cash!1
Don't forget how qualified borrowers in Florida could get their funds in as little as 24 hours!1 Take advantage of the online inquiry process that can be accessed through your smartphone or computer.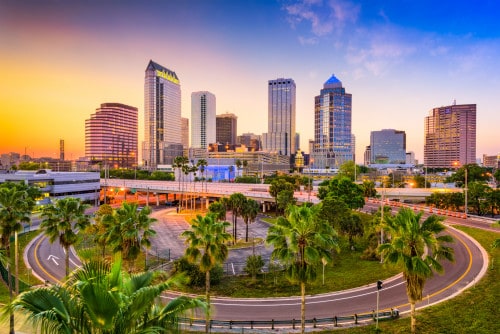 IF YOU HAVE MULTIPLE VEHICLES, WHICH ONE SHOULD YOU SELECT FOR A TAMPA CAR TITLE LOAN?
Borrowers with more than one car can submit information on multiple vehicles to see which has the most value. If you're looking for a significant loan amount, you should examine each vehicle and its value; one of your cars could be a better option than the other.
Also, it may be good to explore all of your options if you have several vehicles to choose from. There may be a chance that one of them could give you a higher cash total than the other! With the online calculator tool, you could quickly find that information! You could get an estimate on your car's equity in a flash and see which vehicle works best for you.1
Dial 855-422-7402 if you need assistance from a ChoiceCash title loan representative. They are available six days a week for extended hours to help with whatever you need.
IS A CAR INSPECTION NECESSARY TO OBTAIN AN AUTO TITLE LOAN IN TAMPA, FLORIDA?
A vehicle inspection is required during the approval process for an auto title loan. Borrowers that read that immediately panic since it's inconvenient to travel somewhere and waste gas. Some title loan options will ask borrowers to drive their cars to a physical location to complete that required inspection. Scheduling an appointment could be a hassle, and it could take hours to complete the inspection. You would just waste the time you don't have to get your cash! However, with a ChoiceCash title loan in Florida, you could do the inspection online!1
You may wonder, "How is it possible to complete a vehicle inspection online?" It might be simpler than you think!1 Instead of going to an office, you could take clear and visible photos of your car. Include pictures of the car's:
Front
Rear
Driver's Side Door
Passenger-Side Door
Vehicle Identification Number (VIN #, Usually Located on the Lower-Left Corner of the Dashboard)
Odometer Reading(Typically Found Beneath the Steering Wheel on the Dashboard)
This part is important because ChoiceCash title loan agents examine these images during the approval process. You could email or fax the pictures directly to a ChoiceCash title loan representative when you have the photos ready.
BENEFITS OF CAR TITLE LOANS IN FLORIDA
In the process of obtaining auto title loans in Tampa, Florida, borrowers are likely looking forward to obtaining their funds. But when you inquire about a ChoiceCash title loan, you could get exclusive perks that add to your overall loan experience!1
Take a look at some of the benefits you could acquire if you qualify for a title loan:
No Hidden Fees: Many loan options have hidden fees that leave you in an unexpected cycle of debt. With loan options like a ChoiceCash title loan, you could expect transparency with no hidden fees or balloon payments to be found. There are also no prepayment penalties for repaying a loan early.
A Flexible and Quick Approval Process: The added advantage of collateral is that you could anticipate a flexible and convenient inquiry process. Despite your current credit score or financial background, you could still qualify for funding. In addition, you could complete the loan process from the comfort of your home! It may only take a few minutes of your time to get through.1
Competitive Interest Rates: Interest rates typically determine how much you'd pay back during the repayment process. With a ChoiceCash title loan, you could deal with competitive interest rates if you qualify.1
Payments That May Decrease: This loan option could come with exclusive financial rewards for you to take advantage of! By simply being a responsible borrower and making on-time loan payments, you could take advantage of this opportunity to get rewarded! With each due date, your interest rate and monthly installment may decrease if you qualify for this reward.2
Keep Driving Your Car In Tampa, Florida: If you are concerned about losing access to your vehicle during the loan duration, do not worry. You can always keep your car with you as long as you're up to date with your payments!
Don't hesitate to speak with a ChoiceCash title loan representative at 855-422-7402 if you have questions about the previously listed benefits.
DO I NEED GOOD CREDIT TO APPLY FOR A TITLE LOAN IN TAMPA, FLORIDA?
With an auto title loan, you could still qualify for the money you need, even if you aren't confident with where your credit is at. Many unsecured loan options require borrowers to have good credit, but Florida car title loans may be more flexible during the inquiry process. Even if you have a low credit score, a title loan may be available as a resource you can use to get the funds you need.1
Since title loan lenders will still run a credit check during your inquiry, your credit would go through what is known as a hard inquiry check. That happens once you qualify and agree to proceed with the loan agreement. It can take off some points from your credit score, but that could improve with time and effort on your part.
Don't let your credit history get in the way of obtaining your emergency cash! Dial the toll-free number at 855-422-7402 for more information.1
WHAT CAN I USE MY ONLINE TITLE LOAN FUNDING IN TAMPA, FLORIDA, FOR?
You've finally met all the requirements for a car title loan, but now you're wondering what you can spend the cash on. While there are limitations to what you can use your funds for, there are many things you can spend money on that could benefit you. Although every borrower has a different financial situation, you can see similarities in each one.
Many Tampa residents can and will use their funding for several reasons, such as:
Rent
Paying for Medical Bills
Covering the Cost of a Wedding or Funeral
Consolidating Credit Card Debt or Past Due Bills
Living Expenses for House, Apartment, or Dorm Room
Covering Vehicle Repairs
Utilities Like Cable, Power, Electricity, Gas, Water, Etc.
Renovating Your Home
There are many ways to spend your auto title loan funds if you receive approval! Whether you're covering rent or vehicle repairs, you can use money from a title loan to cover a variety of financial issues.
TAMPA, FLORIDA CHOICECASH LOAN STATISTICS
Available to Tampa Florida residents since Match 2019, ChoiceCash title loans has proudly provided convenient access to credit to Florida borrowers for several months. As one of the premier title loan options for Tampa residents, ChoiceCash has already provided title loans to more than 382 Tampa Florida borrowers. You may wonder which car qualifies for a ChoiceCash title loan. While the Nissan Altima has been the most frequently used vehicle to secure a ChoiceCash loan in Tampa, there is no finite list of qualifying vehicles, since a ChoiceCash loan approval is based on several factors, not purely based on vehicle manufacturer and vehicle model.
HOW CAN I PAY FOR MY CAR TITLE LOAN IN PERSON?
Repaying a title loan could be simple when you apply for a ChoiceCash title loan.1 Although many borrowers prefer to pay title loans online, you could also opt to make payments in person. Just visit a local MoneyGram location to complete your monthly payments!
In case you don't know, you can often locate MoneyGram in convenient public stores, such as Wal-Mart, CVS, or Kroger. Call 855-422-7402 to discuss your options with a ChoiceCash title loan representative, or take a look at the map and location list below:
Addresses shown display closest MoneyGram locations. Map displays all MoneyGram locations in general vicinity.
Locations near Tampa, Florida
ChoiceCash is proud to service residents all over Florida including metro areas Jacksonville, Miami, and Orlando. Call 855-422-7402 to discuss your options with a loan expert, or see the city list below to see where your MoneyGram locations near Tampa:
Featured Locations near Tampa, Florida
Nearby States by Florida That offer a ChoiceCash Title Loan