What is a Title Loan, and How Do Car Title Loans Work?
A car title loan, otherwise known as a pink slip loan or an auto title loan, is a type of secured loan that allows the borrower to access a percentage of their car's value. The borrower's car title is one of the most important documents submitted during the approval process because it is used as collateral to secure the loan.
You can use a vehicle title loan to pay bills, consolidate debt, or pay for unexpected expenses. Title loans work by allowing you to pledge your car or truck title as collateral for funding!
Auto title loans are usually more flexible than traditional loans because collateral is used to secure the loan. Title lenders will place a lien on your vehicle title once the loan is funded. The lien is removed from your title once the loan is completely paid off. Borrowers can continue to drive their vehicles during the repayment process as long as they make their monthly payments on time.
Title loan lenders may consider your credit history during your loan application. But, the following two application criteria are mainly used by title lenders to determine your loan amount and eligibility:1
Your Income and Ability to Repay the Title Loan
The Value of the Collateral
You can conveniently apply for a ChoiceCash title loan serviced by LoanMart online! Use your smartphone or computer to fill out the online inquiry form. Or, just call a title loan agent directly at 855-422-7402. If you qualify, you could get your funding in as little as one business day.1
How Much Can I Get for a Title Loan?
Looking to borrow money with a title loan? Typically, you could access up to 50% of the total value of your car if you qualify for an online title loan.1 Car title loans work a little bit differently than traditional loans from a bank or credit union. Your loan amount will primarily depend on the value of your car, your income, and your ability to repay the loan.1
You might be able to get anywhere from $2,000-$15,000 if you qualify for a car title loan!1 ChoiceCash has an online calculator tool available for title loan borrowers to quickly obtain an estimate of their car's value and a loan quote, free of obligation.1
Can I Get a Title Loan if the Title Isn't in My Name?
You can't get a title loan if your name is not listed on the car title. If there are two people listed on the title, your title lender may be able to work with that, depending on the state. Additionally, you will need to replace your title if it is missing or lost. If you are the rightful owner, just visit your state's respective Department of Motor Vehicles to request a duplicate title or transfer the title to your name. A small fee is usually required to complete either service, so make sure that you bring all of the necessary documents with you and a form of payment.
You may not need to own your vehicle outright in order to apply for a car title loan.1 But, if you are still making payments on your vehicle, the title lender may ask you to complete and sign a form authorizing them to pay off your existing auto loan.
What are the Alternatives to Online Title Loans?
When you need quick funding, you could consider applying for a car title loan. However, there are other options to consider as well, including:
Payday Loans: Payday loans are short term loans that are designed to provide borrowers with quick access to cash. A payday loan can seem like a fast cash solution, but they usually come with high interest rates and fees that can make it tough to repay the loan.
Credit Card Cash Advances: With a credit card cash advance, you are borrowing money against your card's credit limit. But, it is possible for credit card cash advances to come with higher interest rates and fees than regular purchases made with your card.
Personal Loans: Personal loans can be obtained from banks, credit unions, online lenders, and other financial institutions. With an unsecured personal loan, the borrower does not have to pledge collateral to guarantee the loan, so the lender is taking on more risk. If you have poor credit, you may not be able to qualify for a personal loan.
You do not need a bank account or a perfect credit history to apply for a title loan. With ChoiceCash title loans, qualified borrowers can access competitive interest rates!1
What Do I Need to Apply for Online Title Loans?
You don't need to jump through a lot of hoops to apply for online title loans. Take a closer look at the initial requirements and the documents you will need to submit to get a car title loan:1
Valid Government/State-Issued Identification
Proof of Address
Evidence of a Qualifying Vehicle Title in Your Name
Proof of Income or Alternative Income
Recent, Clear Photos of the Vehicle
The required documents can be conveniently uploaded online! You can also send the necessary paperwork via text or email to a ChoiceCash title loan agent.
Where Can I Apply for Car Title Loans Near Me?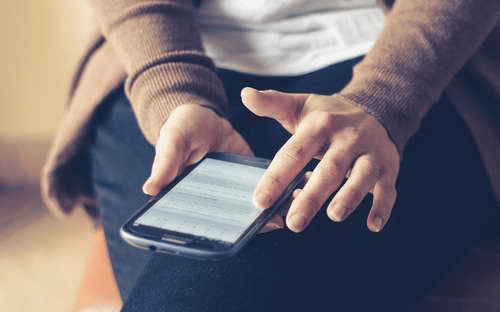 It can be tempting to type "car title loans near me" into the search bar on your web browser and browse for a storefront location near you. But, what if there was an easier way to get a car title loan? With ChoiceCash title loans, you can apply online or over the phone without leaving your home.
Just call 855-422-7402 or click here to get started on your title loan application today. Qualified borrowers can choose direct deposit or have their funds added to their debit card to get their money in as little as one business day!1
Frequently Asked Questions About Title Loans
What if I Can't Pay my Car Title Loan Back?
If you do not pay your title loan back and default on your loan, your vehicle could be repossessed. It is important to reach out to your title lender or loan servicer before you default on your loan! Most lenders are willing to work with you to find an alternative solution.
Does an Online Title Loan Affect Your Credit Score?
Your credit score can be negatively affected if you default on your title loan. But you can set up automatic withdrawals from your bank account to pay your loan. That way, you do not have to set any payment reminders, and you can potentially avoid late fees and loan default.
Do I Need Good Credit to Qualify for an Auto Title Loan?
Title loans are flexible because collateral is used to secure the loan. It is possible to get a car title loan even if you don't have perfect credit!1
What Types of Cars Qualify for Online Title Loans?
Any car can potentially qualify for an online title loan if it has enough positive equity. Use ChoiceCash's online calculator to find out if your vehicle will qualify as collateral for a title loan!1
How Fast Can I Get my Title Loan Money?
One of the best perks of a ChoiceCash title loan is that you can get your money in as little as one business day if you qualify!1