Car title loans are one of the most accessible loan options out there, but you may have heard about the possibility of your car getting repossessed.
Learn more about the repossession process with car title loans and how can best avoid it when you work with ChoiceCash Title Loans.1
How Do Title Loan Companies Repossess Cars and Other Vehicles?
A car title loan is a secured loan, which means an asset is used as collateral to secure the funds. When you sign the title loan contract, you agree to pay installments on a predetermined day each month. If you fail to do so, your account may eventually default and that could lead to repossession.
Step 1 of Repossession: Default on a Title Loan
Default occurs when a borrower fails to meet the expectations of the title loan agreement by missing several monthly payments in a row. The exact number of missed payments that lead to financial delinquency depends on each title loan option, sometimes one or two missed payments is not cause for alarm.
Keep in mind missing payments can make your financial situation worse, as you may be expected to pay a fee for each late payment. For this reason, it's a good idea to maintain contact with your representative when you find yourself struggling to keep up with title loan payments.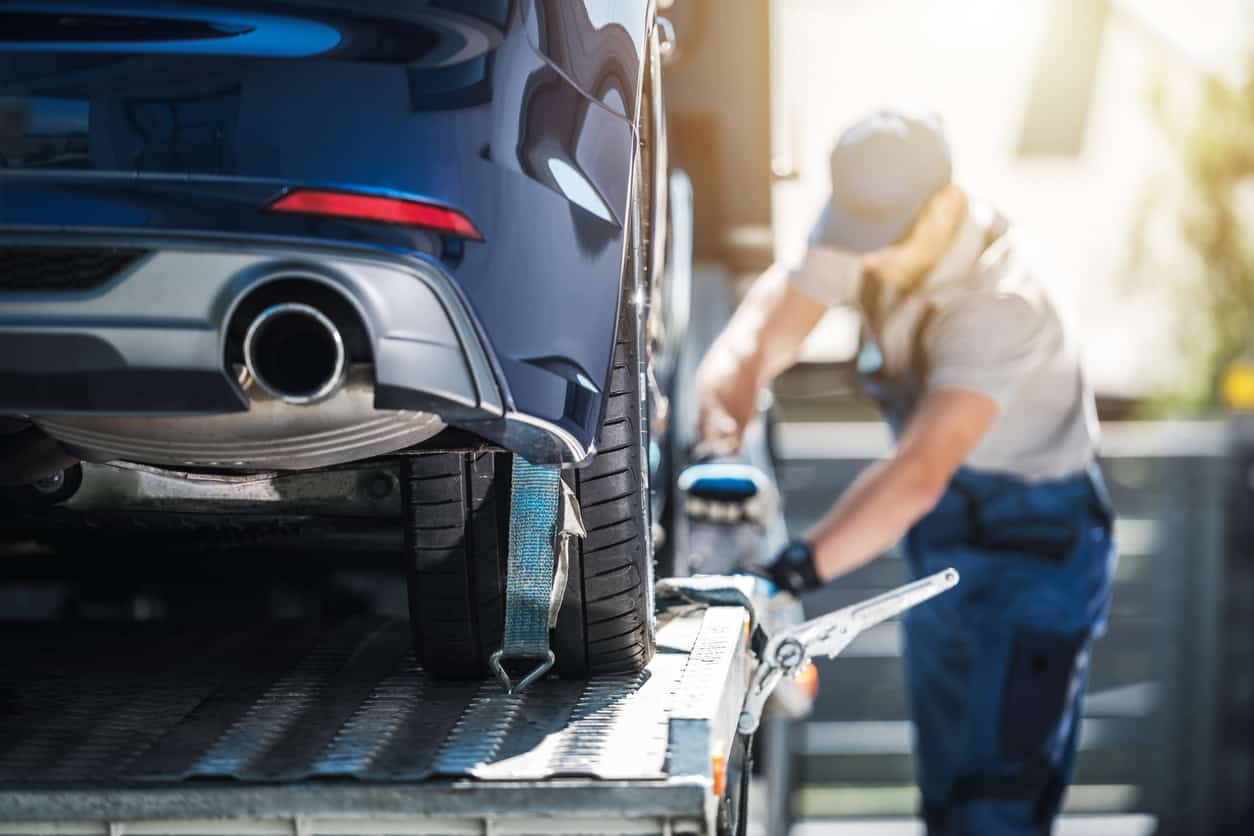 Step 2 of Repossession: Getting Your Vehicle Repossessed
When there has been no contact with the title loan provider, and no attempt has been made to remedy the situation, then the final resort is repossession of the vehicle. Under the terms of the agreement, the title loan provider may have the car towed and taken to a secure lot.
The vehicle will remain parked in the lot or tow yard for a set period of time as stated in your title loan agreement. If you do not take initiative to reclaim your car, then it is eventually sold at auction so the remaining title loan amount can be regained. If the auction amount does not cover the remaining cost of the title loan, then you will still be responsible for paying the difference.
Can I Reclaim My Vehicle if a Title Loan Company Repossessed Your Car?
If your car is repossessed, do not let yourself be overwhelmed. You are still able to reclaim your vehicle and fix the situation when you work with ChoiceCash Title Loans. Title loan agents are not vindictive, so you are allowed plenty of time to establish contact with your agent to come up with a mutually satisfying solution.
One option that your agent may present is a title loan refinance.1 Refinancing means that you receive a new title loan agreement with different terms that fit your financial situation. For example, if your financial circumstances have changed and your monthly title loan payments are too high, then you could potentially get a lower bill with more time for repayment.1 You should never be afraid to speak candidly with your loan agent, which is why ChoiceCash Title Loans offer compassionate service with extended hours.
How to Get an Affordable Title Loan to Avoid Getting Your Car Repossessed
While getting your car repossessed is a possibility when you obtain a title loan, you don't have to be wary of title loans as a financial option when you work with ChoiceCash Title Loans.
ChoiceCash Title Loans are unlike other loan options because the repayment process was designed with you in mind. Affordability is one of the key benefits eligible borrowers receive with ChoiceCash Title Loans!
When you prove yourself to be a reliable borrower, you could access financial rewards that make repayment easier, take a look:
Payments may Decrease2: By continuously paying your monthly bill on time, your loan amount could get smaller and smaller each time you pay.2 You could keep a little more money in your pocket every time you pay back your title loan.2 By the time you finish repaying the title loan, your loan amount could be half as much as when you started paying!2
Competitive Rates: The interest rate is the price you pay for emergency funding, which is why many loan options have sky-high rates. ChoiceCash Title Loans are unlike other loan options, as you can look forward to competitive interest rates that don't have to make repayment stressful.
Long Repayment Terms: Although title loans are considered short term loans, you could get a lot more time to repay when you work with ChoiceCash Title Loans if that is what you need.
Fast Emergency Cash1: If you need money quickly to pay a bill that is due soon, you should know that you could get the money you need in as little as 24 hours after approval with ChoiceCash Title Loans!1
How to Inquire for a Title Loan Using Your Vehicle
ChoiceCash Title Loans have a rather simple and easy process. It only takes a few minutes of your time to see if your vehicle qualifies for emergency funding.1
Take a look at how you could start the approval process for a ChoiceCash Title Loan1:
Call or Click Online: To see how much title loan money you could get using your car, just complete the online title loan questionnaire or dial the toll-free number (855) 914-2945.
Upload Images of Your Documentation: If you are preapproved with ChoiceCash Title Loans, you can start uploading your paperwork online! You can do this by taking out your phone and taking photos of the front and back of your documents.
Get Approved for a Title Loan1: Once your documents are received, a title loan agent will verify your information. If everything is in order, an agreement will be drawn up and you can sign.
Getting the money you need in a pinch is easy with ChoiceCash Title Loans!1 Don't let the fear of getting your vehicle repossessed stop you from inquiring for a fast and affordable title loan today.