---
If you quickly need to find money to pay for bail bonds, you might be wondering what to do. Depending on how much you need, friends or family members might be able to help, but chances are you'll need more than they're willing or able to lend you. You could decide to sell items to allocate funds, but that could take longer.
So, what's the alternative? Fortunately, if you own your car or you are close to owning a car, you may still have options. With loan options like ChoiceCash Title Loans, you could receive the money that you need in as little as one business day!¹ You may be able to use a title loan to pay for bail bonds.
How Can I Get Money with a Title Loan to Pay for Bail Bonds?
Depending on the nature of the alleged crime and the state in which you live, the minimum bail amount could be five hundred dollars, but it's usually a lot higher. More often than not, bail could be set at thousands of dollars, even for relatively minor offenses. Most individuals don't have access to that kind of money, especially at short notice. Borrowing the money from a friend or family member might be an option, but only if they have the cash available. You could also sell or pawn items online to get fast cash, but it might take an undesirable period. Your location could offer a payment plan to help you out, but they might not be available everywhere. Unfortunately, your options could be limited when you pay for a bail bond.
On the plus side, you probably won't have to pay your friend or family member a fee – unlike a bail bond agent. That is someone who'll pay the bond for you, but, of course, they'll charge you a premium for their services. This is usually between 10% and 15% and is often required to be paid upfront. For example, if bail is set at $5,000, this means you might be required to pay $750 to the agent first.
With nearly 40% of Americans unable to find the cash to pay a $400 emergency bill, this could be a problem for many. A payday loan could provide the money you need to pay the bail agent's fee, but there may be limits on how much you can borrow, and you may be required to pay it back within a month or less. Beyond this, a payday loan could also come with an expensive price tag, with many having interest rates of over 300% APR.
You could potentially get a cash advance if you have a credit card. The good thing about that is you would not have to apply for a loan if you already have a provider. The downside of a cash advance is that you are required to pay it back with substantial interest (depending on your rate and provider) and the limitations that come with it.
There's another problem you might not be aware of: bail bond agents are illegal in some states, and if a bail bond agent isn't an option, what else can you do? With loan options like ChoiceCash Title Loans, you could inquire about a title loan to pay for bail bonds. You can go online or call a representative at 855-422-7402 today to find out how ChoiceCash Title Loans can financially help you in this situation!¹
What Are My Loan Options to Pay for Bail Bonds?
Depending on how much you need, you might have also considered an unsecured personal loan, but there are also a couple of potential problems here.
Firstly, many lenders require borrowers to have good credit. You may have an excellent, unblemished payment history, but your score may be low if your credit utilization is high. As a result, some loan companies might not be willing to lend you the money you need.
Secondly, you probably need the money in a hurry, and some lenders can take days to get you your money. The process of verifying your information could take weeks before a final decision is made. That won't help if you're trying to get the money today or even tomorrow. A financial emergency doesn't wait for a weekend!
The other lending options, such as payday loans and cash advances, can offer a short-term loan that might not give you enough time to repay it. The loan could also possess hidden fees and high-interest rates that could leave you in a cycle of debt. These options aren't feasible when you need money to cover this expense. If the option isn't good for your finances in the long run, then it shouldn't be something you consider.
The solution? A car title loan could provide you with the funds you need within the time you need it.1 You could use an auto title loan to pay for bail bonds when other loan options aren't helping you in your time of need. Since you're using your car's title as collateral, your credit score isn't a significant factor in the decision-making process, unlike other loan options. You could even get your money within 24 hours or less.¹
Once you have taken out the loan, the lender places a lien on your vehicle. You can continue driving your car as you make your payments, and once you have repaid the loan, the lender will remove the lien.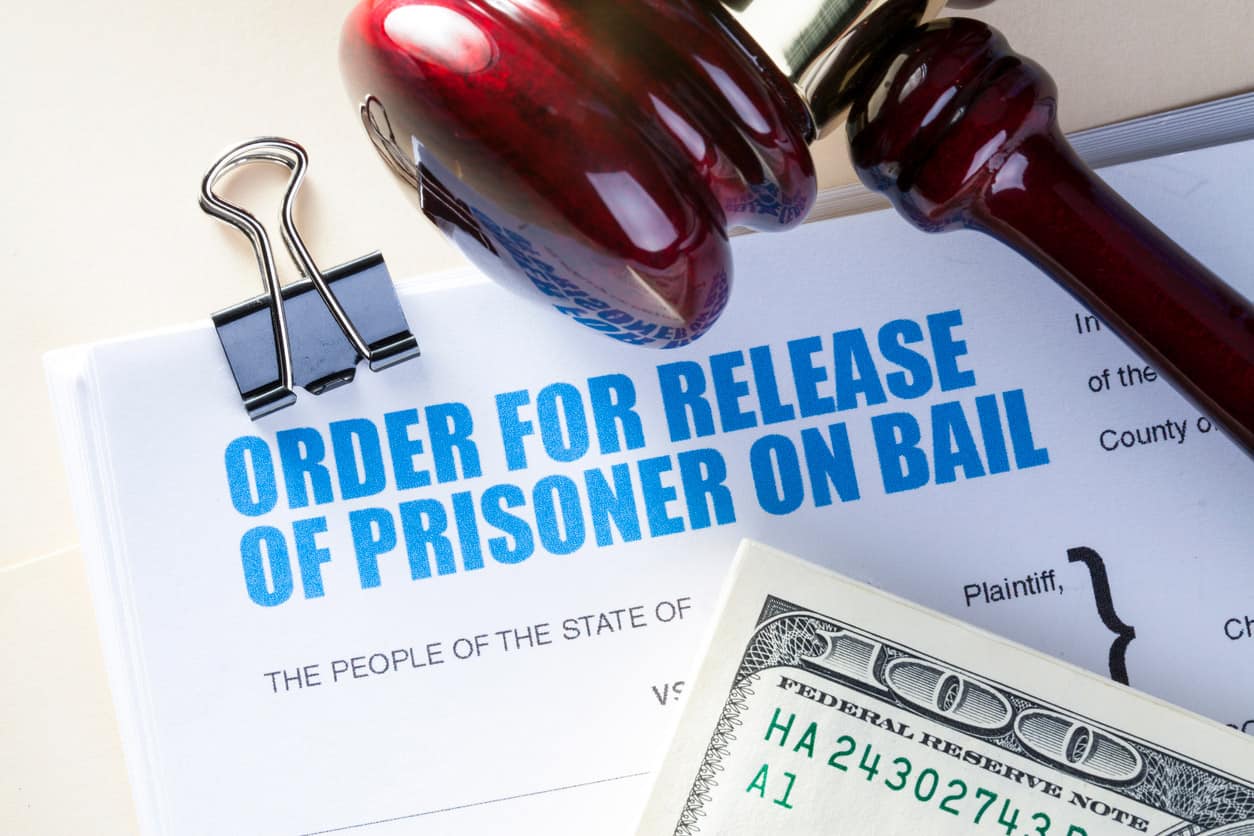 Introducing ChoiceCash Title Loans, Serviced by LoanMart
In most cases, the most significant benefit to getting the loan is having the money you need, but once the money's gone, so are the benefits. You're then left to make the payments, and with some loans taking five years or more to repay, it can often seem as though you're tied to a commitment you no longer want or can afford.
A ChoiceCash Title Loan, serviced by LoanMart, works differently. When you make your payments on time, you have the potential to earn a reward. This reward is that your payments and interest rate may decrease.²
That could potentially make a significant difference! By putting the money you need back into your pocket, this gives you a benefit that's hard to beat, with your payment potentially dropping by nearly half by the end of your loan.2 Your loan repayment process can also be affordable and flexible enough not to leave you in a lot of debt.
If you get your bail bond refunded, you can use it to repay the loan before the maturity date, with no prepayment penalties. When looking for an alternative financial resource for such a situation, you can inquire about a car title loan to pay for bail bonds with ChoiceCash Title Loans.1
What Happens After I Use an Auto Title Loan to Pay for Bail Bonds?
In addition to considering a car title loan to pay for bail bonds, you may be thinking about what happens next after you have repaid the bond. Although you may not need to remain in prison after paying bail, you must have to do two things:
You will need to appear on the mandated court date.
You must keep the conditions of the bail that were set in court, such as a daily or weekly reporting to the police, as well as a curfew. Another condition can be not to bother any witnesses involved in the hearing or case. This is especially important.
If by any chance you do not meet the conditions and fail to appear on the court date, a judge can forfeit the bail money and will issue an arrest.
It's essential to be on time with this payment, just like you would have to do with paying off a title loan. With loan options like ChoiceCash Title Loans, loan terms are set up to make the repayment process flexible and convenient for you.¹ A representative can help you throughout the entire loan process and answer any questions you may have. Call a loan representative today at 855-422-7402!
This material and information provided in this blog is provided for informational purposes only, nor does it represent a complete analysis of the topics presented.
How Soon Can I Get My Money with a Car Title Loan to Pay for Bail Bonds?
Many loan options can take an extended amount of time to process your money. As it was previously mentioned, a lender might not consider the speed that you need your money to be sent to cover a financial situation, or in this case, pay for bail bonds. When you apply for a traditional loan option, it could take a significant amount of time before you will see your information verified by the lender. If you need your cash in a hurry, that can be incredibly inconvenient!
When you inquire about a title loan to pay for bail bonds, you can expect that these are not factors that contribute to the loan process.¹ It's quite the opposite, as the approval process for a title loan can be much quicker than many lending options.¹ You could receive funding in as little as one business day!1 With loan options like ChoiceCash Title Loans, your convenience is kept in mind at all times. It only takes a few minutes to get started on the inquiry process by going through an online portal and submitting the required documents with ease!¹
What Documents Do I Need to Use a Title Loan to Pay for Bail Bonds?
Another advantage to a ChoiceCash Title Loan serviced by LoanMart is that you don't need a lot of unnecessary documentation to apply. It's also very convenient to submit these documents online, which can speed up the entire process. You would need to have the following on hand:
Proof of Income – You can provide pay stubs, bank statements, worker's compensation, proof of pension income, retirement income, SSI Income award letters, settlement income, or a letter of employment from your employer to prove your ability to repay a loan.
Proof of Residence – Two pieces of mail from the past thirty days could prove where you currently reside. You can also use recent credit card statements, mortgage/rental agreements, utility bills, recent phone bills, and other documents to verify this information.
Vehicle Title – You must be listed as the vehicle owner to be eligible for a title loan. If you share a name with multiple people on the title, they may also need to submit documentation to qualify. If you have your name missing on the title or have lost it, that's okay; a loan agent from ChoiceCash Title Loans could help you find out how you can request a transfer or replace it at your local DMV.
Vehicle Photos – You must take clear and visible pictures of the front, back, and sides of the vehicle, plus the odometer and VIN(Vehicle Identification Number).
References – Either personal or professional, or both.
Not only can you submit these documents online, but you also have the option of sending them through email, or fax. Once your documents are received and verified, a loan agent could fund you for a loan in an hour.1 You can choose to have your money transferred directly to your bank account, or have a check sent to your address.¹ Additionally, qualified borrowers can pick up their funds at a participating money transfer location nearby.
From start to finish, you can also complete the whole process without ever needing to leave the comfort and convenience of your own home.¹ If you have any questions or concerns about documentation, call an expert from ChoiceCash Title to help break it down for you!
How Can I Apply for a ChoiceCash Title Loan?
Do you need to use a title loan to pay for bail bonds? Submitting an inquiry for a ChoiceCash Title Loan couldn't be easier.1 Simply apply online by submitting your information or calling 855-422-7402 toll-free to speak to a friendly loan representative. Answer a few brief questions about yourself and your car through the inquiry form. You could find out in minutes just how much you might be able to borrow through a car title loan.1
It can be stressful when you need money for bail bonds in a hurry, but borrowing the money shouldn't add to your anxiety. Inquire for a ChoiceCash Title Loan by calling 855-422-7402, or going online to get the help you need today.