Finding loan approval can be difficult when you have less than perfect credit, but not when you work with ChoiceCash! Instead of doing a deep dive into your credit history, ChoiceCash car title loans use the value of your vehicle to secure loan funding for hundreds or even thousands of dollars!¹
So, if you have bad credit, no credit, or even past bankruptcy, consider a ChoiceCash Title Loan when you're looking for a bit of financial relief.
Using your car as collateral, you could gain access to the emergency cash you need to take care of any unexpected expenses. Whether you need quick money for home repairs, car repairs, medical bills, or just general debt consolidation, a ChoiceCash car title loan has your back!¹
Take advantage of the following benefits when you work with ChoiceCash:
Fast Approval¹
Interest Rates May Decrease²
Flexible Terms
Bad Credit OK¹
Refinancing Your Current Title or Low Balance Auto Loan²
Contact ChoiceCash today to see if you qualify to refinance your current auto or title loan with a ChoiceCash Title Loan.
---
Car Title Loans with ChoiceCash
If you're new to car title loans, you may have heard a few different phrases used to describe them. Here are some other common names that car title loans may go by:
Title loan, title loans
Auto title loan
Pink slip loan
Auto equity loan
Title loan with bad credit
Automobile title loan
Car equity loan
Auto collateral loan
Cash for car title loan
Essentially, car title loans are a way for people to utilize the equity in their vehicle in exchange for quick, convenient emergency funding. The equity, also known as the value, in a vehicle is market value compared to how much the owner owes on it. To find this value, car title loan lenders look at the year, make, model, and style of a car and ask how far along the owner is in paying off their car. If you are still making payments on your vehicle, don't worry, you can still easily be approved for a ChoiceCash Title Loan.¹
Once approved, your lender will sign on to your vehicle title as a lienholder to secure the collateral. However, you still get to keep and use your car like normal as you pay off your loan. When a lender becomes a lienholder, this means that they have claim over the car in the event a borrower defaults on their title loan. But this is always a last resort. If you feel you are having trouble paying back your loan, reach out to your lender so they can adjust your interest rates, payback terms, or even refinance your loan altogether.¹
When you get your car title loan using ChoiceCash, you can also take advantage of these benefits:
Interest Rates May Decrease² – Every month as you make your title loan payment on time, your interest rate as well as your balance may decrease.² Overall, your rates can decrease by up to 50% from when you started.² That's more money in your pocket to use for whatever you need.
Fast Approval¹ – ChoiceCash Title Loans are known for being fast and efficient. Filling out the initial inquiry form can only take a few minutes, and once approved you could have your money as soon as the very same or next business day!¹
Bad Credit OK – Don't worry about a low credit score holding you back when get a car title loan. Lenders use the equity in the vehicle to secure loan funding, so they can approve people with poor credit, no credit, as well as people with previous bankruptcy. ChoiceCash cares about your future, not your past!
Ready to get started on your fast cash now? Fill out a fast inquiry form online for a free estimate or call 855-422-7402 to talk to a title loan expert.
---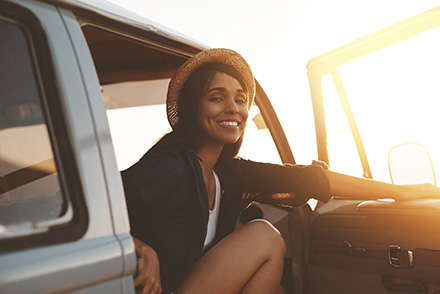 ---
Frequently Asked Car Title Loan Questions
Want to know more about car title loans? Check out these common questions people ask about title loans. You can also review the ChoiceCash Title Loans FAQ page for additional information!
How Much Money Can I Get with a Car Title Loan?
Your approved funded amount will depend on mainly the value in your vehicle and your ability to repay the loan. You can also use the handy title loan calculator to get a better idea of your potential interest rates, payback terms, and more!¹
Learn More About How Much You Can Get with a Car Title Loan
---
Do Car Title Loans Require a Social Security Number?
If you don't have a social security number, you could still be approved for an auto title loan. Instead of using your social security number, you can use your ITIN, or your Individual Tax Identification Number.
Learn More About Title Loans without a Social Security Number
---
Where Can I Find an Auto Title Loan Near Me?
ChoiceCash Title Loans services title loans throughout the United States! Find out where you can get your money near your neighborhood or opt for the online process, so you don't even have to leave your house!
Learn More About Title Loan Locations Near You
---
Do I Need the Car Registration to Get a Title Loan?
There are several documents that lenders require for car title loan approval. These documents usually are a government issued photo ID, qualifying vehicle title, proof of income, proof of residence, and a few photos of the car.
---
Getting a Car Title Loans is Easy as 1, 2, 3!
1. Click or Call for Approval¹
Fill out a quick inquiry form or call ChoiceCash for a free pre-approval estimate.¹
2. Send your Info
The sooner you send in your documents, the sooner you get your money!¹
3. Get your Cash!
Have your approved funding sent via direct deposit, wire transfer, or mailed check. Or, choose to pick up your funds at a participating money transfer location near you.