THINGS TO KNOW ABOUT
?
TITLE LOANS IN BATON ROUGE, LOUISIANA
Have you gone from living "paycheck to paycheck" to simply going without necessities in between pay periods? Before you receive your paycheck on the first of the month, the refrigerator is empty, and so is your gas tank. From 2021 to 2022, inflation rose over 7%, and the average worker received an annual 3% raise. So, what do you do when your expenses far exceed your income? Do you rely on friends and family to provide financial assistance until you get back on your feet? Do you max out credit cards until you can catch up on bills? Receiving a title loan in Baton Rouge, Louisiana, could potentially be a better option for you.1
Sometimes, borrowing money from friends and relatives leaves you feeling like a burden on your loved ones. Unless you come from a wealthy family, the chances of your relatives having the means to alleviate your financial distress may be slim to none. If you're relying solely on your credit card to provide a sense of financial relief, you may be hurting yourself more than helping. The more you swipe your credit card, the higher your credit utilization rises. Higher credit utilization typically means lower credit scores and higher interest rates when trying to pay the money back.
Title loans could potentially be a better fit for those who cannot rely on family and those who have already exhausted their credit limit. ChoiceCash Title Loans can offer competitive interest rates for qualifying candidates!1 Loan approval is also not solely based on a borrower's past credit history.1 So, if you are looking for financial relief and have less than admirable credit, keep reading for more details about title loans in Baton Rouge, Louisiana.
DO I MEET THE REQUIREMENTS FOR TITLE LOANS IN BATON ROUGE, LOUISIANA?
Just like with any loan process, there are some basic requirements that a borrower must meet when applying for title loans in Baton Rouge, Louisiana. Below are the initial requirements:
Be 18 Years of Age or Older: Applicants must be 18 years of age or older when inquiring about a title loan. Unfortunately, if you are only 17, you will have to wait until you are of legal age.
Qualifying Car: Title loan lenders can lend qualified borrowers money based on a percentage of their car's equity.1 A borrower must have enough equity in their vehicle to potentially qualify for a title loan.
Vehicle Title in Your Name: If you are interested in a title loan, please make sure your name is on the vehicle's title at the time of inquiry. If it is not, you will need to request a title transfer at your local OMV (Office of Motor Vehicles). If you are still paying off your car loan, don't be discouraged- you may still be eligible for a title loan if your vehicle meets the right equity criteria.1
Ability to Repay Loan: One of the main factors in loan approval is the borrower's ability to repay the loan.1 You will need proof of a steady income if you wish to apply for a title loan.
For the most part, the initial requirements for a title loan are simple, and most borrowers can meet the basic requirements.1
CAN TITLE LOANS IN BATON ROUGE, LOUISIANA HELP ME WITH MY RENT PAYMENTS?
Now that you've determined that you meet the initial requirements for a title loan, you may be thinking, " Can I use cash from a title loan for my rent payments?" Rent payments are the largest expense for most residents in Louisiana. On average, residents of Baton Rouge pay an estimated $1,128.00 in monthly rent/mortgage payments. According to the U.S Census Bureau, the average household income for residents in Baton Rouge is $44,177 a year. After taxes, a monthly household income is likely to be around $2,872. If rent is almost half of the resident's monthly income, it can be challenging to make on-time rent payments.
In addition to rent payments, borrowers are encouraged to utilize their funds from title loans in Baton Rouge for other emergencies if need be. Below are just a few examples.
Child Care
You're a working mom. Not because it's a fun hashtag to use on Instagram, but because you have to be. Today, most households need at least two incomes to make ends meet. While you are at work, you need someone to watch your child. If you ask any working mom, you would agree: daycare is expensive. You can't bring your bundle of joy to work with you, and they are too young to go to school. Qualifying for a title loan could potentially help you pay for daycare while you make a living for your family.
Car Repair
Is your vehicle your bread and butter? You need it to commute to work every day to put food on the table. Unfortunately, you noticed your check engine light was on for the last seven months, and you didn't have the money to get it fixed, so you ignored it. Then, you noticed your car began to shake a little when you put the keys in the ignition. After looking at your bank account, you figured that would be a problem for another day. Now, when you turn on your engine, your car is shaking uncontrollably, and it terrifies you to even drive it. You want to call AAA and have their mechanics look at it, but you're afraid the cost may be too overwhelming for your budget. Qualifying for a title loan could potentially allow you to pay a reputable mechanic to give your vehicle the diagnostic it needs.
Medical Expenses
Do you visit the pharmacy weekly to pick up your prescriptions? Prescriptions can get expensive, especially if you're taking them more than once a day. You tried rationing out your pills so you could make fewer visits to the pharmacy, but that can be incredibly dangerous. That's no way to live. You may be able to use a car title loan to pay for medical expenses.
Home Repairs
Let's face it- being a homeowner is tough. Every year, there is something else that needs to be fixed around the house. It could be a roof, flooring, or even water damage. If the repairs are serious, they could be expensive. Roof repair is notoriously expensive and difficult to pay for. You may not be able to handle it on your own! If you need quick funds to cover an unexpected home repair, you can rely on your title loan funds to get your house back in ship shape.1
If you're experiencing some tough financial stress, a title loan could be the way to get yourself out of a tough financial situation.1 If you have more questions on what you can use funds for, please call 855-422-7402, and a loan agent will be happy to answer your questions.
IS A CAR INSPECTION REQUIRED FOR TITLE LOANS IN BATON ROUGE, LOUISIANA?
ChoiceCash Title Loans in Baton Rouge, Louisiana, can offer a flexible approval process to qualified borrowers.1 However, a borrower is required to have a qualifying vehicle when proceeding through the application process.1 If you are unsure if you have a qualifying vehicle, loan agents are in place to perform virtual inspections. During the application process, you will be asked to send photos of your car. These photos should include the mileage on the vehicle's odometer, the vehicle's exterior, and your Vehicle Identification Number. So, pull out your smartphone with the best picture quality, and begin snapping pictures.
If you're in the world of photography, you may have heard the best time to take photos is during the "Golden Hour." Golden hour is the time of day right before sunrise and right before sunset when the sky is illuminated with radiant colors and captivating shadows. Unfortunately, taking your vehicle photos during golden hour may make it difficult for an inspector to perform accurate analyzes. Wait until the sky is the most bright, typically in the late morning or early afternoon, and take your photos. Once you get your desired images, send them in for a loan agent to review.
During the application process, photos of your vehicle are not the only document you will need to send in. Below are a few more documents you'll need to have ahead of time:
Proof of Address: You can send in utility bills, recent credit card statements, and any other qualifying piece of mail that has your legal name on it with your current address.
Proof of Income: Borrowers can send in pay stubs, bank statements, proof of Social Security benefits and pension income, or even child support statements. If you are unsure if your income qualifies, speak to a loan agent today at 855-422-7402.
Vehicle Title
Valid, Government-Issued Photo ID: You can send in a valid state ID, driver's license, or U.S passport.
References: You may be asked to send in references. Your references can be either professional, personal, or both.
The great news: your documents can be sent electronically for your convenience. You can send your paperwork from your home via email or fax!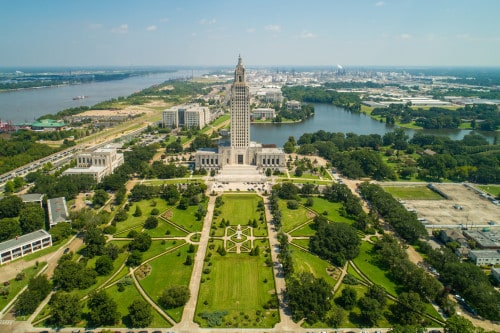 DOES MY VEHICLE HAVE ENOUGH EQUITY TO QUALIFY FOR A CAR TITLE LOAN IN BATON ROUGE, LOUISIANA?
When applying for car title loans in Baton Rouge, Louisiana, the equity in a vehicle plays a major role in a candidate's potential approval.1 The equity in your vehicle is calculated by comparing your car's market value to the amount of money you still owe on your vehicle. If your car is worth more than the amount you still owe, you likely have positive equity. The market value of your vehicle also plays a factor in the amount of equity you can have in your vehicle. Below are a few components that make up your car's market value.
Make and Model: More popular vehicles tend to have good market value as the years go on.
Vehicle Mileage: Most consumers want vehicles with minimal mileage on the odometer, as it represents having to do less maintenance in the future.
Year of Vehicle: It is no secret that cars depreciate every year. So, as your vehicle gets older, it may be seen as less valuable on the market.
If you are still unclear about the market value of your vehicle, resources like Kelly Bluebook can help.
ARE THERE OTHER BENEFITS WITH TITLE LOANS IN BATON ROUGE, LOUISIANA?
If you qualify for a ChoiceCash Title Loan in Baton Rouge, Louisiana, you could take advantage of a few benefits.
Quick Funding1
Emergencies require urgent relief and they do not wait for the weekend or a better season of life. Some borrowers do not have weeks to wait when they have final notices clogging their mailboxes. Borrowers that qualify for cash through ChoiceCash Title Loans can sometimes receive funding in as little as one business day.1
Keep Driving
Often, your vehicle plays a vital role in the functionality of your household. Borrowers are able to keep driving their vehicles while paying off their loans in a timely manner.
Competitive Interest Rates1
ChoiceCash Title Loans allows qualifying borrowers to take advantage of competitive interest rates.1
HOW CAN I GET A TITLE LOAN IN BATON ROUGE, LOUISIANA TODAY?
So, you've decided that title loans in Baton Rouge, Louisiana, could be a good fit for you. Now, you want to know what steps to take to apply. Below is a step-by-step guide.
Apply online or give us a call at 855-422-7402. You'll be asked basic questions to determine if you meet the initial requirements to apply.
If you meet the basic requirements, you'll be asked to begin the application process by sending in your paperwork (vehicle title, proof of income, proof of address, valid government-issued photo ID, etc.)
Once a loan agent receives your application and determines that you meet the qualifications, you'll be able to provide your preferred method of payment. (Direct deposit, ACH draft, check, or or picked up at a participating money transfer location.)
Don't wait to see if your income and vehicle qualify for the cash you need today!1
HOW CAN I PAY FOR MY TITLE LOAN IN PERSON
Pay back your car title loan in Baton Rouge at any MoneyGram location in Louisiana. MoneyGram is often located in convenient public stores such as Wal-Mart, Kroger, or CVS. Call 855-422-7402 to discuss your options with a loan expert, or see the map and location list below to see where your nearest MoneyGram is located:
Addresses shown display closest MoneyGram locations. Map displays all MoneyGram locations in general vicinity.
Locations near Baton Rouge, Louisiana
ChoiceCash is proud to service residents all over Louisiana including metro areas . Call 855-422-7402 to discuss your options with a loan expert, or see the city list below to see where your MoneyGram locations near Baton Rouge:
Featured Locations near Baton Rouge, Louisiana
Nearby States by Louisiana That offer a ChoiceCash Title Loan