THINGS TO KNOW ABOUT
?
WHERE CAN I INQUIRE ABOUT SAME DAY TITLE LOANS IN INDIANAPOLIS, INDIANA?
If you're in a financial crisis and need quick funding, a loan might be a great option to help you recover. While a loan could be a good resource to consider, you may spend some time searching for a lender that will approve you if you have an "undesirable" credit score. Even if you find a lender, you may waste a lot of time discovering if you qualify or not. If you're facing a financial emergency, time isn't a resource you have the luxury of wasting.
Fortunately, the loan process can be much more convenient when you inquire about a title loan in Indianapolis, Indiana. The inquiry process can be streamlined with ChoiceCash title loans! Qualified borrowers can access their funds in as little as one business day. The approval process for a car title loan could potentially be flexible for borrowers with a bad credit history.1
Some traditional loan options would require you to apply for a loan in person. But with a ChoiceCash title loan serviced by LoanMart, you could start the loan process from the comfort of your home! Just use your smartphone or computer to begin your inquiry today!
Read below to learn more about title loans in Indiana and how you could potentially obtain one! You could also dial the toll-free number 855-422-7402 to speak with a ChoiceCash title loan representative for further details.
WHAT IS THE BEST VEHICLE INSURANCE TO HAVE FOR AN AUTO TITLE LOAN IN INDIANAPOLIS, INDIANA?
Indiana residents can wonder if car insurance is necessary for online title loans. While a title loan lender maintains your vehicle's title, they consider it an asset that needs to be protected by insurance. But what is the best insurance to have when applying for a same day title loan?
Take a look at the different types of car insurance available before you learn about the best one for car title loans:
Collision Coverage
Personal Injury Protection (PIP)
Liability Coverage (Almost Every State Requires This Insurance)
Comprehensive Coverage
Underinsured/Uninsured Motorist Coverage
Although there are several insurance types to choose from, only one would cover you best for a title loan: comprehensive and collision coverage. Through that insurance type, you could protect your car if there's any damage or loss due to a collision. You can ask your insurance provider what kinds of insurance they might require, or call a title loan agent to see if your current insurance provider can offer the best coverage for your vehicle.
If you're on the line with a ChoiceCash title loan agent, you could ask them any loan-related questions. They are available six days a week for extended hours to assist borrowers in any way possible.
WHAT ARE THE REQUIREMENTS FOR CAR TITLE LOANS IN INDIANAPOLIS, INDIANA?
When lenders approve borrowers for funding, they look for some key qualifying factors. These requirements can vary based on the type of loan you are applying for and the state you reside in.
However, it can be simple to understand the car title loan requirements!1
While the exact qualifications can vary, a hopeful title loan borrower in Indianapolis will need to meet the following criteria before applying:
Indiana Residents Must Be 18 Years of Age or Older to Apply: An online title loan can be a considerable financial decision! To sign a loan contract, borrowers must be 18 years of age or older.
Have Enough Positive Equity in Your Vehicle: Car title loan lenders will base your potential loan amount on the value of your vehicle and income level. Your eligibility for a title loan is also partially dependent on how much equity your car has. If you're like most borrowers, however, you may not know what your car's current equity is. Thankfully, there is an online calculator tool available for title loan borrowers to quickly find an estimate with a quote, free of obligation! Contact a ChoiceCash title loan agent at

855-422-7402

if you have questions1
Have the Ability to Repay Auto Title Loans in Indianapolis: When you apply for a car title loan, a title loan lender will ask you to provide proof of income. However, you don't need a traditional career or job to qualify for a title loan!1 You could simply use an alternative source of income to show your ability to repay Indianapolis title loans, such as: bank statements, Social Security/Supplemental Security Income, or even pension income.
Have a Title to a Qualifying Vehicle: Before you inquire about title loans in Indianapolis, ensure that your vehicle title is in your name to qualify. Title loan lenders will ask you to provide documentation that confirms this. Suppose the car title is not currently in your name. Then, you will need to request a title transfer at your local Bureau of Motor Vehicles. Talk to a title loan agent to learn more!
THE ONLINE INQUIRY PROCESS FOR INDIANAPOLIS RESIDENTS
Inquiring about a car title loan does not need to be a hassle! In fact, it can be the opposite Borrowers that inquire about a ChoiceCash title loan could seize the opportunity of a flexible online title loan process. Simply follow these three basic steps to start:1
Submit a Brief Inquiry Form Online, or Over the Phone with a ChoiceCash title loan representative at

855-422-7402

Send in Your Documents
Get Your Loan Proceeds!1
Find out if you meet the requirements to obtain car title loans in Indianapolis, Indiana, today! You could receive funds in as little as 24 hours if you qualify!1 Contact a ChoiceCash title loan agent if you need assistance.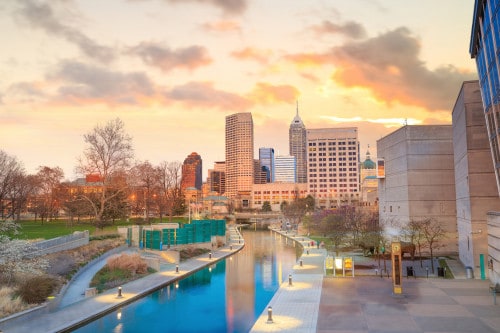 DO I NEED DOCUMENTS TO APPLY FOR AUTO TITLE LOANS IN INDIANAPOLIS, INDIANA?
In addition to using your vehicle title as collateral, a ChoiceCash title loan agent will ask you to submit some documents to verify your information and car ownership. The paperwork can help streamline the approval process and further the loan inquiry!1
Don't worry about wasting time looking for documentation, as you may have them sitting around your house or car. Once you collect them, you could send your documents online!1
Generally, you can anticipate turning in the following paperwork:
Proof of Alternative Income: Remember the option of using alternative sources of income to satisfy this requirement; there's no need to have a traditional 9-5 job to acquire an online title loan in Indiana. You could demonstrate your ability to pay off loans by showing recent pay stubs, retirement income, worker's compensation, settlement income, a letter of employment from your employer, or other approved alternative forms of income.1
Proof of Indianapolis Address: A title loan agent will ask you to confirm whether you live in Indianapolis through a valid document. It could be simple to validate your residence using a bunch of different paperwork, such as: recent utility bills, credit card statements, recent mail, mortgage statements, phone bills, rental/lease agreements, etc. Dial

855-422-7402

if you have questions about what documents are acceptable.1
Vehicle Title: Don't forget how your car's title must be in your name to acquire emergency cash. If you're currently financing your vehicle, you may still qualify for a loan; however, you may need to complete a payoff authorization form so that your new title loan lender can pay off your existing lender.1 Suppose you share a name on the title. That's okay! You may still be eligible for an auto title loan. But, depending on the title's details, all members written on it might have to send documentation together and apply. If you have lost or misplaced your vehicle title, you could always contact a ChoiceCash title loan representative to help you find out how to request a duplicate title at your local Bureau of Motor Vehicles(BMV). Also, Indiana borrowers may have to complete State form 205, also known as an Application for Certificate of Title for a Vehicle.
Recent Images of Your Car: ChoiceCash title loan agents must conduct a vehicle inspection as part of the approval process. Thankfully, you could complete this requirement from home! Just use your smartphone to take clear and visible photos of your car's front, rear, driver's side door, passenger-side door, odometer reading, and Vehicle Identification Number(VIN #). After you have the images ready, you could upload them through the online portal.
Proof of Valid, Government/State-Issued Identification: To prove your identity to a ChoiceCash title loan agent, you must show a valid, government-issued I.D. card. Simply use your Indiana driver's license, passport, or other certified state identification cards for this requirement.1
References: You may have to provide a few references that can vouch for your financial character. Those could either be professional, personal, or both.
After you submit each document, you could quickly move on to the final step in acquiring car title loans in Indianapolis!1
HOW MUCH CASH CAN A TITLE LOAN GET YOU IN INDIANA?
Indianapolis title loans could allow borrowers to use their car's title instead of their credit to get emergency funding. But how much cash would someone earn through car title loans? Typically, Indiana residents could access up to 50% of their vehicle's value! That means you could get anywhere from $1,000-$10,000!1
With an auto title loan in Indianapolis, Indiana, your loan amount and qualification will depend on these two main factors:
Your Income and Ability to Pay Off Car Title Loans
The Value of Your Vehicle
Be aware that the more value your car has, the more significant your loan amount could potentially be! However, you would only have that cash total if your income can sustain it. With a title loan in Indiana, you would access your vehicle's equity and turn it into the cash you need. Remember, if you aren't sure what your car's equity is, you could use the online calculator tool to find an estimate.1
WHAT ARE THE BENEFITS OF ONLINE TITLE LOANS IN INDIANAPOLIS, INDIANA?
It's important to choose a loan option that helps your loan experience, not hurt it. With car title loans, there could be plenty of perks you could enjoy besides quick funding. But when you inquire about a ChoiceCash title loan in Indianapolis, Indiana, you could expect exclusive benefits.1
Contact a ChoiceCash title loan representative to learn more about each listed below:
Competitive Interest Rates1
A Flexible and Convenient Inquiry Process1
Superior Customer Service For Indiana Residents
Title Loan Payments That May Decrease2
Bad Credit Isn't Always an Issue!1
No Hidden Fees or Prepayment Penalties
Potential for More Available Funding!1
An Online Portal to Keep Track of Your Loan Balance
Borrowers That Make On-Time Payments on Their Loan Can Keep Driving Their Car in Indianapolis, Indiana!
Find out if your vehicle and income qualify for a ChoiceCash title loan in Indianapolis, Indiana! It can take no time at all to apply and find out if you qualify for the funds you need for an expense!1
Go online or dial 855-422-7402 to start your loan inquiry from anywhere in Indianapolis!
AFTER YOU OBTAIN A CAR TITLE LOAN IN INDIANAPOLIS, INDIANA, USE YOUR CASH IN MANY WAYS
While every Indiana resident is different, there are many ways to potentially spend your money after you get a title loan. Bills and unexpected expenses do not discriminate, and almost anyone could suffer from financial hardship.
Some of the most common ways a borrower will spend their loan proceeds are:
To Pay for Medical Bills
Consolidating Credit Card Debt or Past Due Bills
To Pay for a Funeral of a Loved One
Living Expenses for House, Apartment, or Dorm Room
To Pay for Veterinarian Bills
Cover a Big Upcoming Purchase
To Cover Vehicle Repairs
Renovating Your Home
Pay for Utilities like Power, Cable, Electricity, Water, Gas, Etc.
There are different ways to spend your funds after approval! Whether you're trying to pay rent or arrange the perfect wedding, you could use your money to cover a variety of financial issues.1
Don't hesitate to contact a ChoiceCash title loan representative at 855-422-7402 if you have questions about what you can use your title loan money for. Visit the website to find out if you can qualify for online title loans today!1
INDIANAPOLIS INDIANA CHOICECASH LOAN STATISTICS
Having launched in Indiana in May 2019, ChoiceCash title loans has been a trusted funding source for Indianapolis residents for a good while. As one of the premier title loan options for Indianapolis residents, ChoiceCash has already provided title loans to more than 717 Indianapolis Indiana borrowers. The average ChoiceCash customer has received $3,059!1 ChoiceCash title loans have been given to Indianapolis borrowers whose vehicle has an average odometer reading of 141,994 miles at the time of application. If your current odometer is higher than that, you may still qualify though.1 With ChoiceCash, there is no absolute maximum mileage since the loan is primarily based on the value of your vehicle and your ability to repay the loan.
HOW CAN I PAY FOR MY TITLE LOAN IN PERSON?
Nowadays, most Indiana residents prefer to do things online, like purchasing groceries, clothes, or cars. Thankfully, borrowers that acquire a ChoiceCash title loan in Indianapolis could simply pay back their car title loans online. But what if you want to pay a loan in person? Is that not an available option? Fortunately, you could repay Indianapolis title loans at any MoneyGram location in your vicinity! In case you don't know, you can often locate MoneyGram in convenient public stores, such as CVS, Kroger, or Wal-Mart. Dial 855-422-7402 to discuss your options with a ChoiceCash title loan agent, or take a look at the map and location list below:
Addresses shown display closest MoneyGram locations. Map displays all MoneyGram locations in general vicinity.
Locations near Indianapolis, Indiana
ChoiceCash is proud to service residents all over Indiana including metro areas Evansville, Fort Wayne, and South Bend. Call 855-422-7402 to discuss your options with a loan expert, or see the city list below to see where your MoneyGram locations near Indianapolis:
Featured Locations near Indianapolis, Indiana
Nearby States by Indiana That offer a ChoiceCash Title Loan