Are you faced with a tough financial situation this month? If bills are adding up and your budget is thrown out of wack, you may think you are out of options.
Luckily, there is an online option that could grant you the money you need without waiting long.¹ When you inquire about a title loan and receive approval, you could get your money in as little as 24 hours!¹ You can easily start your loan process online or over the phone with an agent. Don't wait forever to get your cash!¹ But if you are currently residing in the Midwest state of Ohio, you may be wondering, "Are there any online title loans in Ohio?"
ChoiceCash Title Loans serviced by LoanMart is available across the country in many states, including Ohio! You have the chance to see if you qualify for fast cash from the comfort of your home!¹ With just a few qualifications met, a loan agent can respond to you with an approval status in no time at all.¹
Get started on your title loan with a quick and flexible approval process through ChoiceCash Title Loans. Simply go online, or call a representative at 855-277-4847.¹ If you have any questions about online title loans in Ohio, let an expert from ChoiceCash Title Loans break down everything for you.
How Can I Get an Online Title Loan in Ohio?
Getting online title loans in Ohio can be much simpler than you initially thought. The requirements needed to receive an auto title loan are typically the same whether you live in Ohio or another state that title loans are serviced in. When you read the word "requirements," you may be anxious about meeting the proper criteria to qualify for a title loan. The truth is that you could easily obtain funding from a title loan in comparison to other loan types. Many traditional loans have requirements that make the inquiry process challenging for those without a perfect financial background. A loan agent could still approve you for a title loan- despite your credit score or financial background!1 With most traditional loan options, poor credit or no credit history will quickly get you denied for funding. While you may not be a desirable candidate for a traditional unsecured loan, a title loan could be a different story.
To initiate the inquiry process for a car title loan, you need to have a title to your vehicle in your name and proof that you can repay the loan amount that a lender gave you.
The title would serve as collateral for the loan, which helps loosen up the eligibility criteria for borrowers who apply. Since collateral is used to secure the cash, you can borrow off of the available equity in your car, and you don't need to have perfect credit to do so.1
A lender can also use the equity from your vehicle to replace the amount a borrower failed to repay by selling it for what it's worth. If you start to miss payments and cannot pay the loan in its entirety, a lender has the legal right to repossess your vehicle. This is often a last-case scenario, however. Most lenders do not want to go through the hassle of repossession!
It's important to note that a lender will place a lien on your car's title during the loan duration until you have completed your monthly installments. The lien is removed once the loan is repaid in full.
Be aware that you can call a representative from ChoiceCash Title Loans if you have any issues completing a payment. They can set up a payment schedule that works for you, or potentially help you find a convenient loan term for what you can afford. You don't have to feel like you are at a loss if any complications arise with your payments. Customer service agents strive to make your loan experience the best it can be, every step of the way.
You may not know what your car's equity currently is, so you may not know what you can potentially borrow. Some borrowers might not even have known that their car had value. With loan options like ChoiceCash Title Loans, you can find an estimate on the equity in your vehicle easily! Get a no-obligation quote by using an online calculator tool provided by ChoiceCash Title Loans.
You will only need to input a few quick details about your car:
The Year Your Vehicle Was Released By a Manufacturer
The Current Condition of Your Vehicle
The Make, Model, and Style of Your Vehicle
The Current Mileage on Your Vehicle
Any Modifications or Alterations Made to Your Vehicle
With this information, you can prepare yourself for the loan process by knowing the available equity in your car before starting your inquiry. When you use the calculator, you can get an idea of the loan amount an agent could potentially offer you. The calculator can also be used to help you get preapproved for the cash you need if you meet the right criteria!1
The Ability to Repay Online Car Title Loans is Essential
Proof of income is one of the two essential components in getting an auto title loan. If the borrower cannot reasonably pay off all of the installments from a title loan, then they would not be able to receive funding. Although lenders can repossess your vehicle if you do not meet your payments, this is not an ideal solution, and loan agents are standing by to help you throughout the repayment process. Reach out if you need assistance or refinancing! 1
It's understandable if you want a considerable loan amount to cover the costs of unexpected bills or expenses. Your loan amount will be based on the available equity in your car and your income.
A great thing about title loans is their flexibility covers many areas. One aspect that is very beneficial is the different forms of acceptable documentation that you can use to provide your ability to pay off a loan.¹ Don't worry about not having a full-time job, as that is not a qualification to be eligible for a car title loan. There are many different ways to earn a living besides a 9-5 job! As long as you can meet all of your payments until the end, you can often show various alternative forms of income to satisfy this requirement.¹
Remember that you can get quality assistance from ChoiceCash Title Loans whenever you have any questions or problems during the loan duration. Loan agents are standing by to help when you need it. Inquire about a title loan today if you haven't taken advantage of a simple process to get your money!¹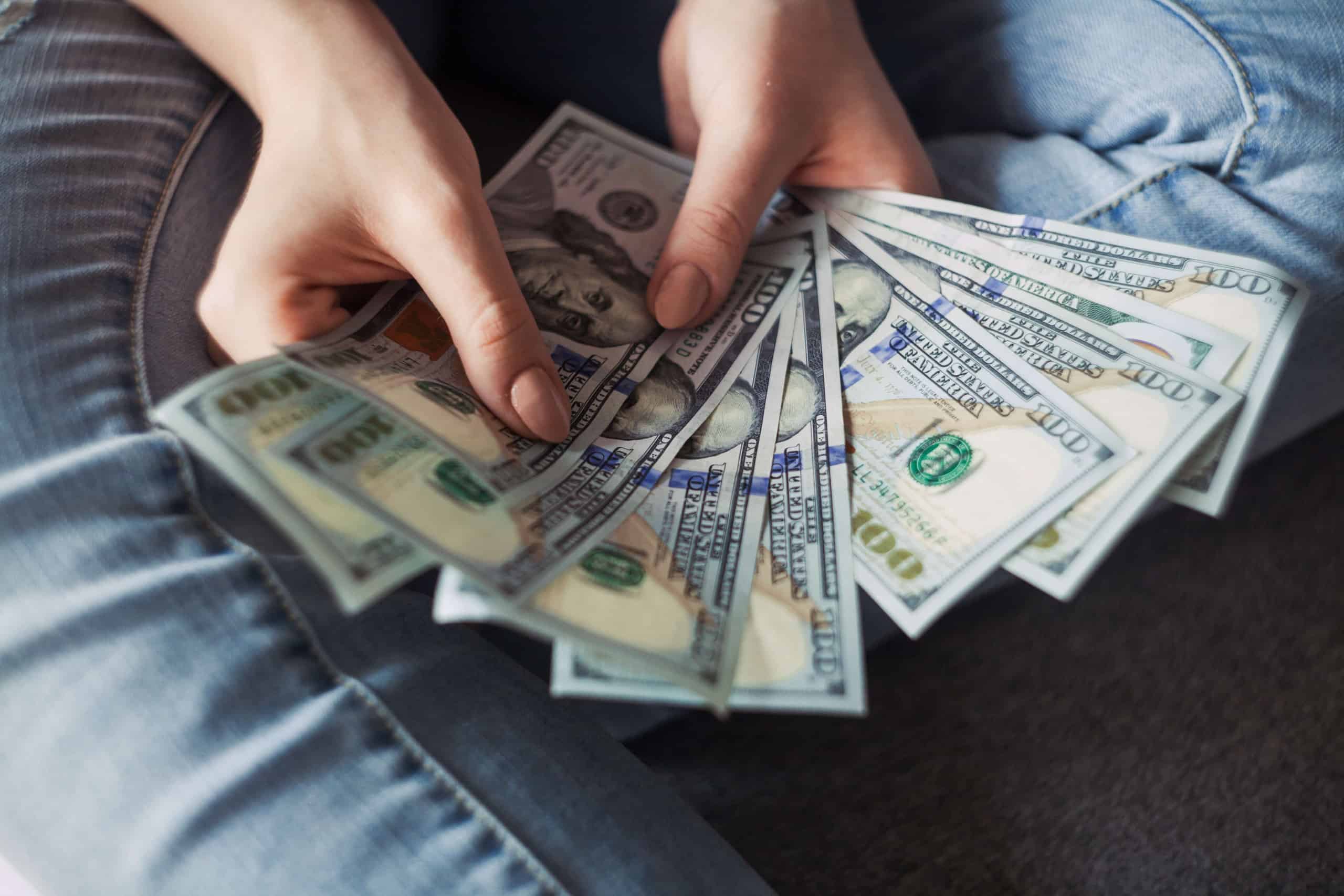 What Documents Do I Need to Get Online Auto Title Loans in Ohio?
A loan agent will ask you to submit a few documents during the inquiry process to verify your information and vehicle ownership. One of the many innovations that ChoiceCash Title Loans has compared to other loan options is the ability to send all of your documents through the online portal with a click of a button!¹ It can be straightforward and can save you the hassle of going to an office just to send your documents. You can get quick responses from a loan agent if you are missing something, and you can act much faster on resubmitting documents than you would if you had to drive back home to get them.
When you inquire about online car title loans in Ohio, there may be a chance that a loan agent will ask for additional documents that are required in that state. Contact a ChoiceCash Title Loan agent for all of the necessary requirements for a title loan today. You can expect to submit these general documents no matter where you reside:
Vehicle's Title: Although the title from your car must be in your name, you can still qualify for a title loan even if you share a name with someone else on the title. What you must do is dependent on the details written on the title. If there is an "AND" in between names, all parties must submit their respective documents, but if there is an "OR" in-between, you or the other member on the title can do the entire process independently. A loan agent can, however, assist with requesting a duplicate title if the customer has lost or misplaced it.
Proof of Address: You must provide proof that you are a resident of Ohio to apply for a car title loan. Various documents can be used to validate this, such as recent mail, credit card statements, mortgage/rental agreements, utility bills, recent phone bills, etc.
Photo Identification: To prove your identity, you must use a government/state-issued ID, such as your passport, driver's license, or state identification.
Proof of Income: There are various documents you can use to prove your ability to repay a title loan. Some examples can be pay stubs, SSI, pension income, worker's compensation, bank statements, settlement income, tax returns, etc.
References: You may be asked to provide references. These can be personal, professional, or both.
Be prepared to take clear pictures of your car so a loan agent can verify its current condition. It's very simple to do that, as you would only need to take visible photos of your vehicle's front, back, and four sides. You may also need to provide photos of the odometer reading and Vehicle Identification Number (VIN #).¹ You can also submit these pictures online to a representative for your convenience!
Can I Get Online Title Loans in Ohio with Bad Credit?
Most lending options automatically disqualify borrowers with bad credit, as they are seen as undesirable borrowers. Although some loan types offer to fund even if you have bad credit, you might end up with a lot of debt that results from high-interest rates and hidden fees. With loan options like ChoiceCash Title Loans, your credit isn't the most essential factor when inquiring about online car title loans in Ohio or any other operating state.1 You can also take advantage of the competitive interest rates and no hidden fees!1
The two main requirements to qualify for a title loan are:
The Amount of Equity in Your Vehicle
Your Ability to Repay the Loan
These are the essential components that loan agents use to determine eligibility. However, a loan agent will often perform a credit check as part of the approval process, but it will not always affect your eligibility if you have the necessary qualifications.1 Keep in mind that a credit check could hurt your credit score, but you can recuperate it with time and effort.
What Are the Benefits of Applying for Online Car Title Loans in Ohio?
There are many benefits to getting online auto title loans in Ohio. With loan options like ChoiceCash Title Loans, there are additional perks that you can take advantage of to improve your loan experience.¹
Go online or speak with a representative to learn more about each benefit listed below:
Payments Start Low and May Decrease²
Quick Funding¹
Affordable Monthly Payments and Interest Rates¹
No Hidden Fees or Balloon Payments
No Prepayment Penalties
Keep Driving Your Vehicle While You Pay Off Your Loan
Excellent Customer Service
And Possibly More!
Find out if you can reap the benefits of title loans today when you inquire with ChoiceCash Title Loans online in Ohio!1
Where Can I Apply for Online Title Loans in Ohio?
Get the money you need fast when you inquire about online title loans in Ohio!¹ It only takes three simple steps¹:
Submit a short inquiry form online to get started on your inquiry process, or speak to a loan agent at 855-277-4847.
Send your documents online.
Find out if you are approved to receive your money.
Once you are good to go for a title loan, you could get your cash in as little as one business day!¹ You can get fast money in no time when you inquire about a car title loan with ChoiceCash Title Loans!¹